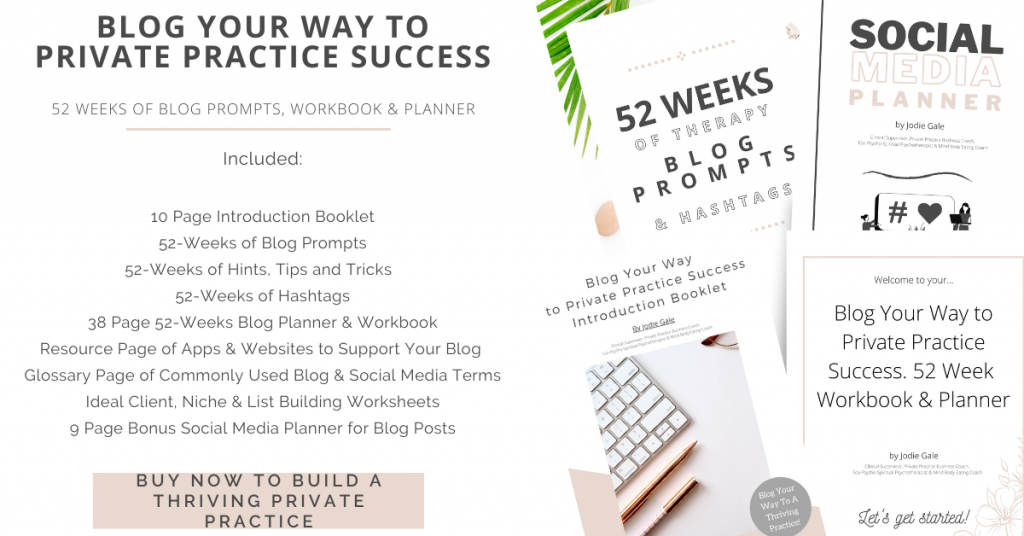 Hey there dear colleague!
Welcome to my Blog Your Way to Private Practice Success: 52 Therapy Blog Prompts for Counsellors, psychotherapists, Social Workers and psychologists.
How would you like to…
Connect with your ideal clients?
Build, scale and thrive in your private practice?
Have a strong online presence?
Have too many clients?
Become the go-to therapist for your niche?
Raise your social proof by appearing in the biggest blogs on the planet and other media opportunities such as radio, podcasts and online/print magazines?
Then my Blog Your Way To Private Practice Success: 52-Weeks of Therapy Blog Prompts Workbook & Planner is for You!
For less than a $1 a week – it is yours.
You can buy it from my Etsy store!
As a clinical supervisor and private practice business coach, I have helped 100s of therapists build thriving counselling and psychotherapy practices. In this 60+ page document, you will find everything you need to build a strong online presence which will help you become the 'go-to' therapist for your ideal client niche.
This is what is included in the 52 Blog Prompts, Blog Your Way to Private Practice Success workbooks and planners:
Blog Your Way to Private Practice Success Introduction Booklet
Acknowledgement of Country
A note from Jodie – how I built a thriving private practice through blogging (and have a current wait list of 140+ people)
10 Ways Blogging Will Help You to Thrive, Transform & Grow Your Private Practice
Comprehensive resource list of apps and website links to support your blogging journey and practice growth
Comprehensive blog glossary
Notes pages
52 Weeks of Therapy Blog Prompts & Hashtags
52 weekly topics specifically related to counselling and psychotherapy (+ other mental health professions)
Tips, tricks and hints for each of the above topics
52+ hashtags
Blog Your Way to Private Practice Success. 52 Week Workbook & Planner
About page
Inspirational quotes
Blog goal sheets
Ideal client worksheet
Niche worksheet
Social media accounts worksheet
Email list worksheet
Monetizing your blog worksheet
Blog content planning worksheet
Individual blog post plan worksheet
Blog post checklist
Observance and awareness days at a glance worksheet
Weekly blog planner
Month at a glance planner
Individual months planner
Yearly blog tracker
Notes pages
Bonus Social Media Planner for Blogs
Year at a glance worksheet
Blog post social planner
Social media accounts planner pages
Social media stats tracker
Notes pages
BUY NOW and don't miss out on building a thriving private practice this year! You won't regret creating rich and juicy content for your website via my 52 Therapy Prompts Workbook & Planner – it is SEO GOLD!