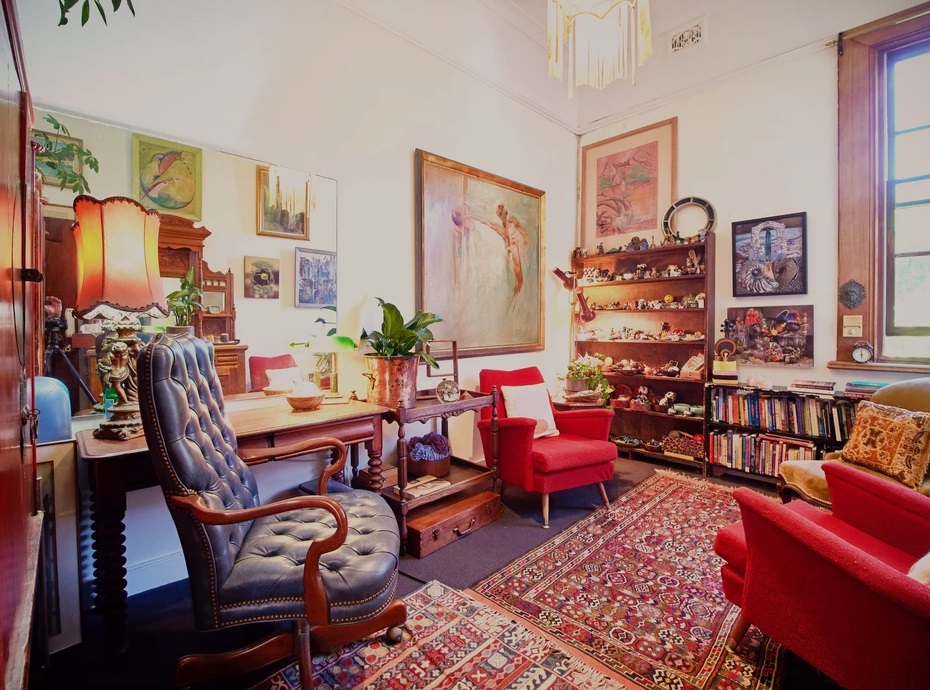 Counselling psychotherapy clients inside home office therapy rooms dates back to the time when Freud, Mahler, Jung, Winnicott, Bettelheim and other forefathers and foremothers practiced, at least sometimes, from their homes (Zur).
Home-office therapists practice out of their living rooms, studies, tiny spaces, purpose built separate dwellings and separate entrance, home office, therapy rooms.
Having spent the best part of 2020 sheltering at home throughout the pandemic, many therapists have fallen in love with working from home and are considering creating a home office to work both online and in-person with their counselling and psychotherapy clients.
Whilst some therapists have privacy and safety concerns and state that they would never work from an office at their home, others absolutely love it and wouldn't have it any other way.
There are many benefits of the home office therapy room for both therapists and their clients. Some of them include:
It can be a warmer and a more 'homely' environment for clients
Clients catch a glimpse of the therapist's world
No stressful commute for therapists
More time to add an extra client or two due to not having to commute
Overheads are kept down due to not paying any office rent
It supports the therapist's work/life balance
The home environment supports ease of participating in self-care
More time at home with family due to not having to commute
Stay at home parents often report that working from home supports flexible hours, more time with their children and participation in their school and extracurricular life
The home office therapy space is designed and decorated to the therapist's liking
Home additions add financial value to the house
As you will see in this blog, there are some truly wonderful and soulful spaces. The therapists in this post hope that you enjoy taking a look inside these 15 home office therapy rooms and that they inspire you as you create your home office.
Inside 15 Home Office Therapy Rooms
LCSW, Licensed Clinical Social Worker – Medical and Mental Health Therapist at re:create JOY in Harrison, Arkansas, United States.
I work as a medical and mental health social worker with those grieving losses, suffering from acute, chronic or terminal illness, or caring for one who does, the ups and downs of aging, or the many changes life throws at us day-to-day; depression, anxiety, transitions.
My space is a 10×16 Derksen Portable Building. It was purchased unfinished on the inside. A handyman finished the inside to my specifications. It has a mini-split for heating and cooling, it's well insulated, has Wi-Fi, and has a portable toilet and sink, has electric but no running water.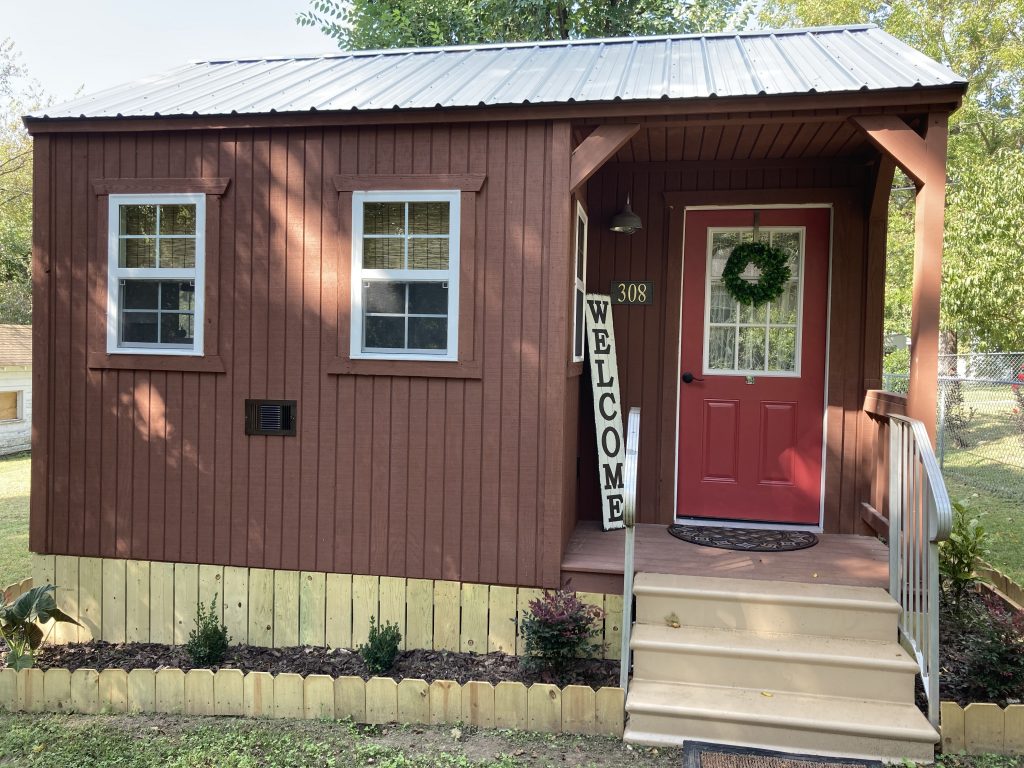 The vibe I have created is calm, peaceful and safe. The client can see the outside trees from where they sit – oftentimes they comment on the playfulness of the squirrels. The mist green walls coupled with natural wood helps set the tone as well.
The building itself was a labour of love! My boyfriend is the one that helped design it and he did all the work. So, I'm reminded of his love, patience, and understanding of my profession every time a new client comments on how great the space is, or when I'm sitting alone in the early morning getting ready for my day.
My clients love the floor. It's crazy funny how just about every client comments on it. I've even had men sit on the floor to feel it. It's just a wood plank from a local hardware store. Also, the building itself. For many, they have not been inside a shed turned office space so when they see it, they are awed by it.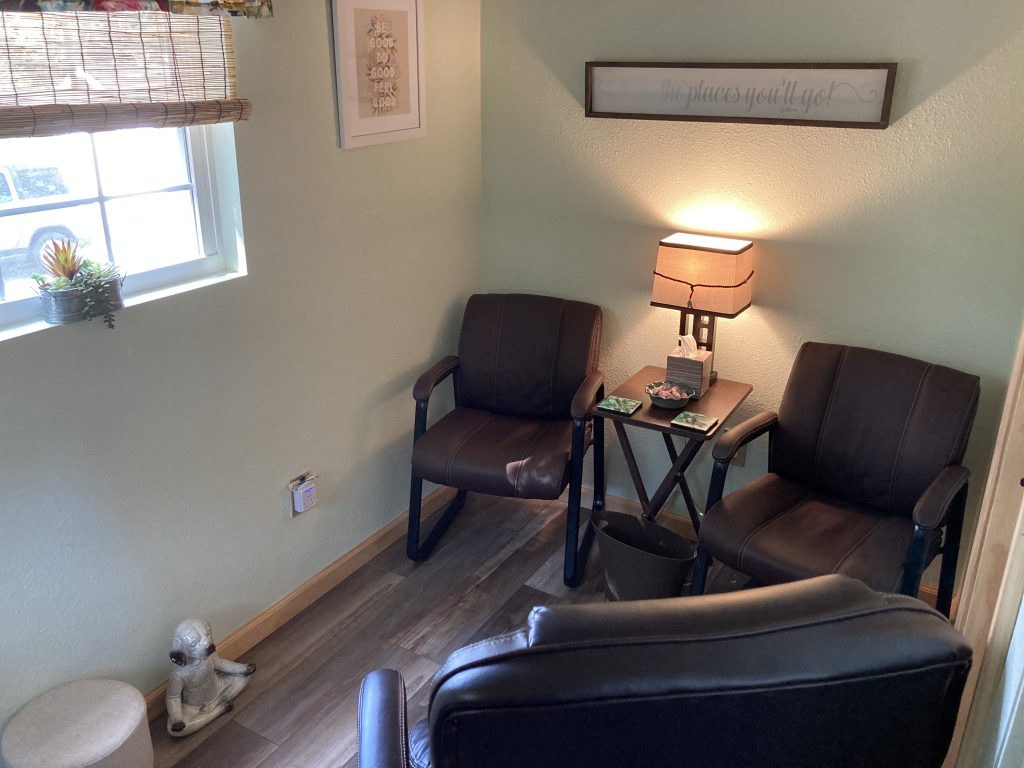 I'm more of dark tones in my home but this space is light and airy which was a leap of faith for me. It's small, intimate, and cozy. I don't use a couch because long ago I went to therapy with my then husband and all the therapist had was a couch … I did not want to be forced like that to sit next to him. So, I don't force that on my clients.
You can connect with me on Facebook
Dip. Couns. B. Ed. MACA, Accredited Telephone Crisis Supporter at a national helpline since 2018 and an accredited Disaster Recovery Officer at the Swan Counselling in Peregian Springs, Sunshine Coast, Qld.
I'm a registered counsellor helping survivors of developmental trauma and attachment injuries heal and grow when realising that their behaviours, default thinking patterns and deeply held beliefs have more to do with the minds of their parents/caregivers than with themselves.
My clients' aha-moments sprung from understanding that no amount of thinking will induce the feeling of safety when the 'frightened animal-brain' inside them is still signalling danger. It is NOT their fault to be anxious and panicked or disconnected and collapsed. It's what they've been through: experiences and interactions shaped their nervous systems. What gives us all hope is that it's perfectly possible to create a new sense of who we are by providing the brain with cues of safety and agency. And that's what we do together during counselling sessions. Using symbols, colour, shape and line on paper or salt and chalk to explore what's stuck inside and gently help it surface.
My therapy room, guarded outside by a mature Bismarck palm, is felt by many as safe, calm and welcoming. I sometimes use the story of the palm tree that I planted 8 years ago as a small one-leaf-wonder, to offer inspiration: Beaten down by storms, propped up by stakes, it still stands strong, providing shelter for birds – something that it does with quiet dignity.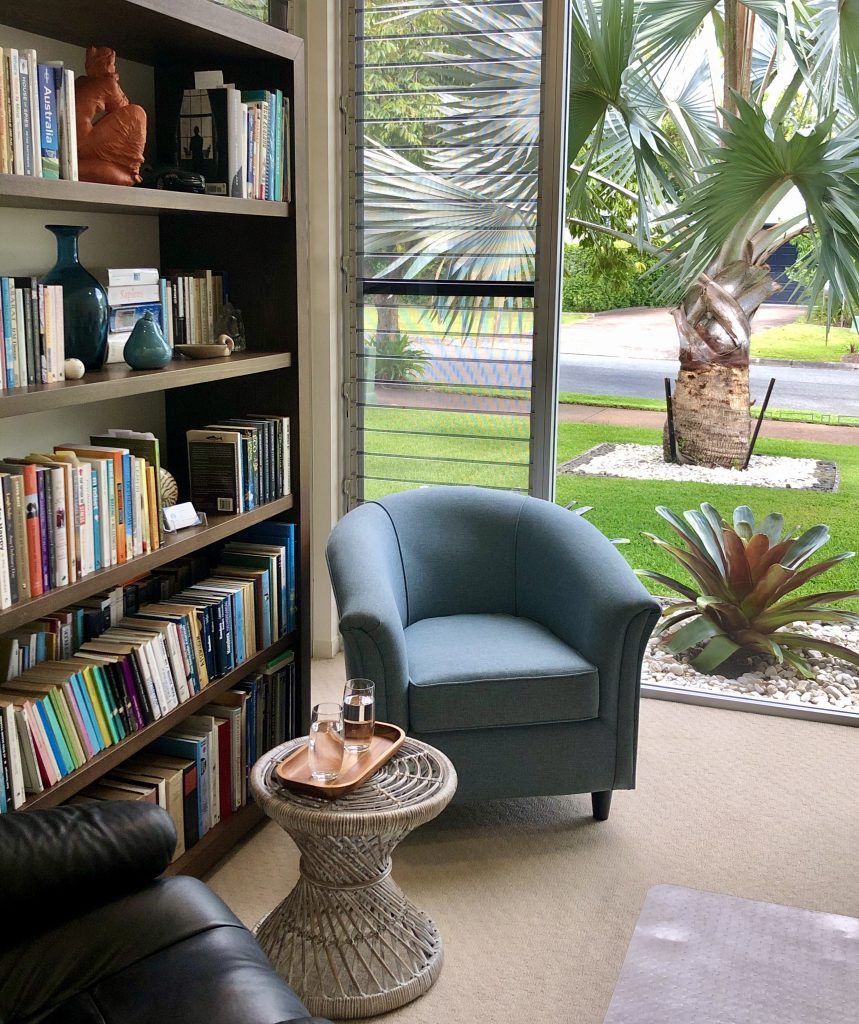 I love some pieces in the room that have been with us for decades, following us from Europe where we come from. The century old chest, the lamp and a beautiful pottery bowl made by a Hungarian artist. It is home to my collection of crystals and rocks that I use for imagery work. The clay sculpture of the Daydreamer, a gift from my mum when I turned 18, reminds me of the delicacy, spontaneity and quiet wisdom of the feminine inside everything.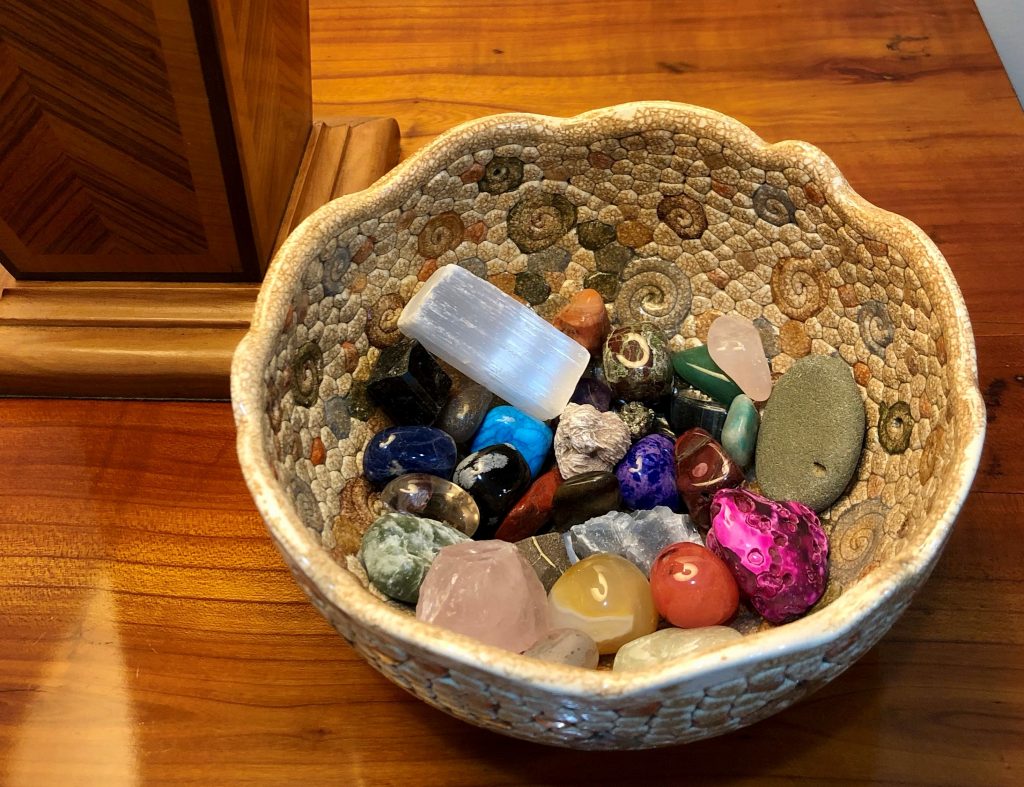 You can connect with me at Swan Counselling Sunshine Coast and on Facebook
MA, LPCC, Mending Hearts Counseling, Windsor, Colorado.
I specialise in betrayal trauma and counsel couples struggling through infidelity and sexual/porn addiction. I am trained in Gottman Method Couples Therapy and have received training through American Association of Sexual Addiction Therapy. Though the majority of my clients are dealing with these issues, I also see many children/teens who are struggling with anxiety, depression, and bullying.
The vibe I am trying to create is a cozy and peaceful space. I believe greys and pastels are calming and my clients comment that they like the light in my office and the color of my door. The color of my door was inspired by a robin egg I found while on a hike in the Colorado mountains. I brought the empty egg shell to the paint store to color-match it. I would like to eventually expand my space to make room for group counseling.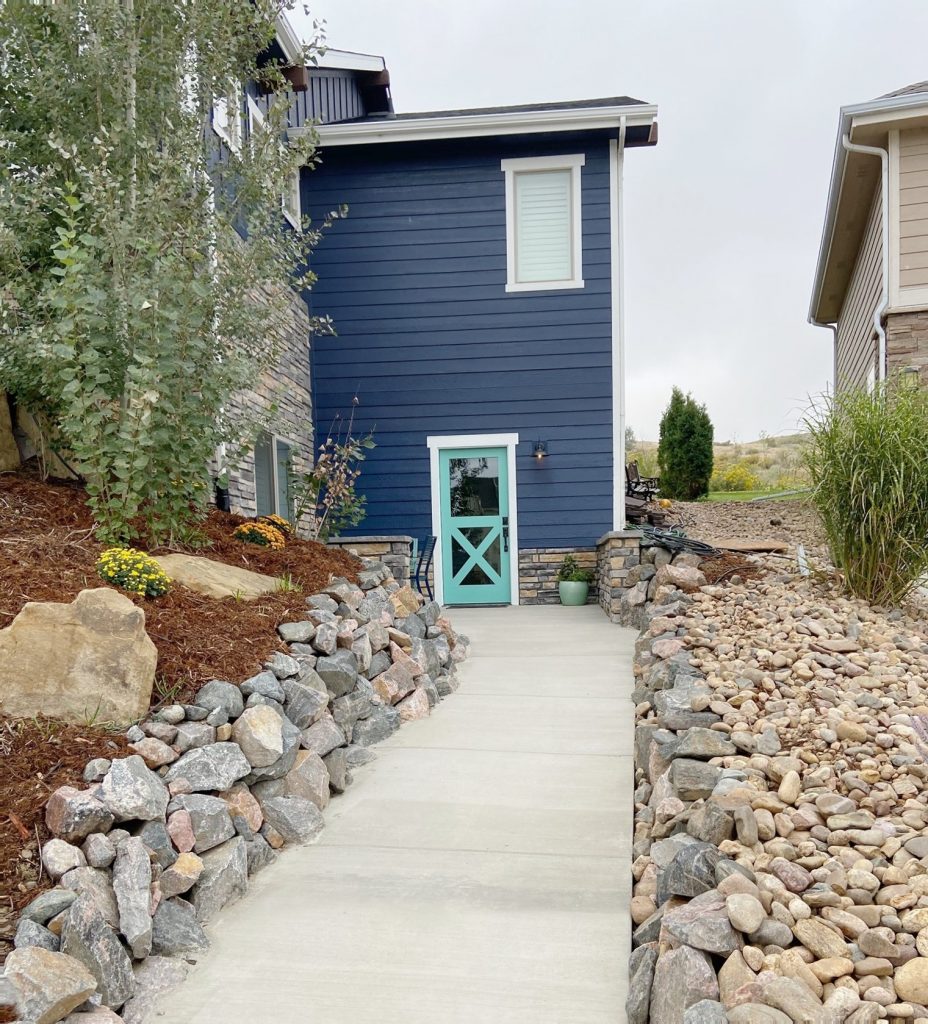 One special item in my space is a Kintsugi-inspired plate from Japan.
The philosophy of Kintsugi art is to embrace imperfection. A broken plate shouldn't be thrown away but is instead made more beautiful by using a technique that reconnects pieces with a lacquer dusted with gold. I show it to my clients to remind them that wounded people are made even more beautiful through adversity.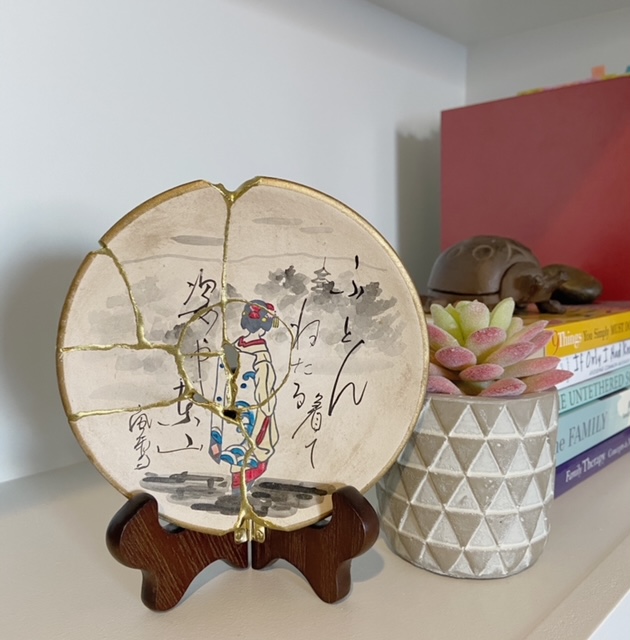 The other special "item" is my therapy dog, Sigmund (Siggy or Sig for short). He's getting trained to work with children I see in my practice.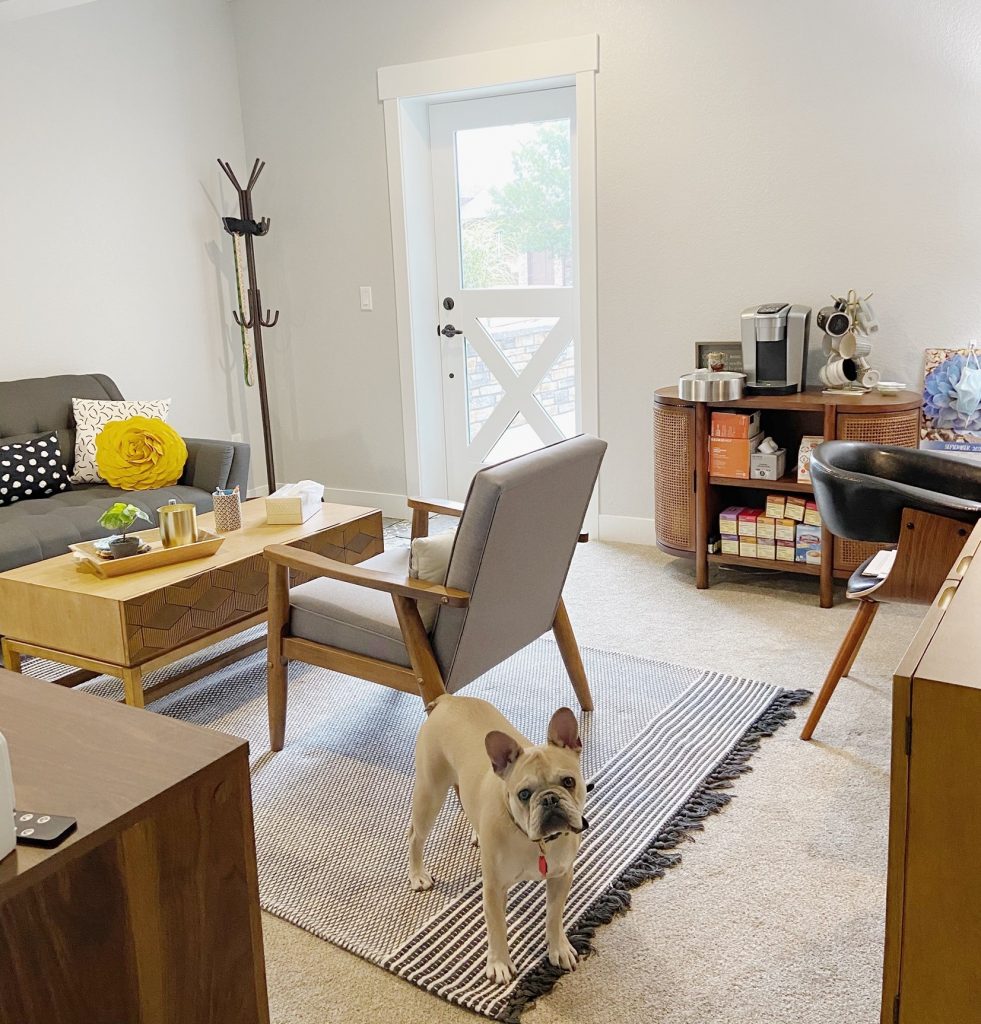 You can connect with me at Mending Hearts Counseling and on Instagram.
MA Counselling, Solution Focused Therapy, Narrative Therapy, Animal Assisted Therapeutic Interventions with co-therapist Pepper and Tulip trained through Lead the Way – Psychology and Animal Assisted Therapy, Level 1 Gottman Method Couples Therapy as well as being a Integrative Breathwork Therapist.
I have worked for a non-government agency in Mental Health for 12 years on a full time basis. Just recently, I went to part time to focus more on my private practice which I started seeing clients in 2020.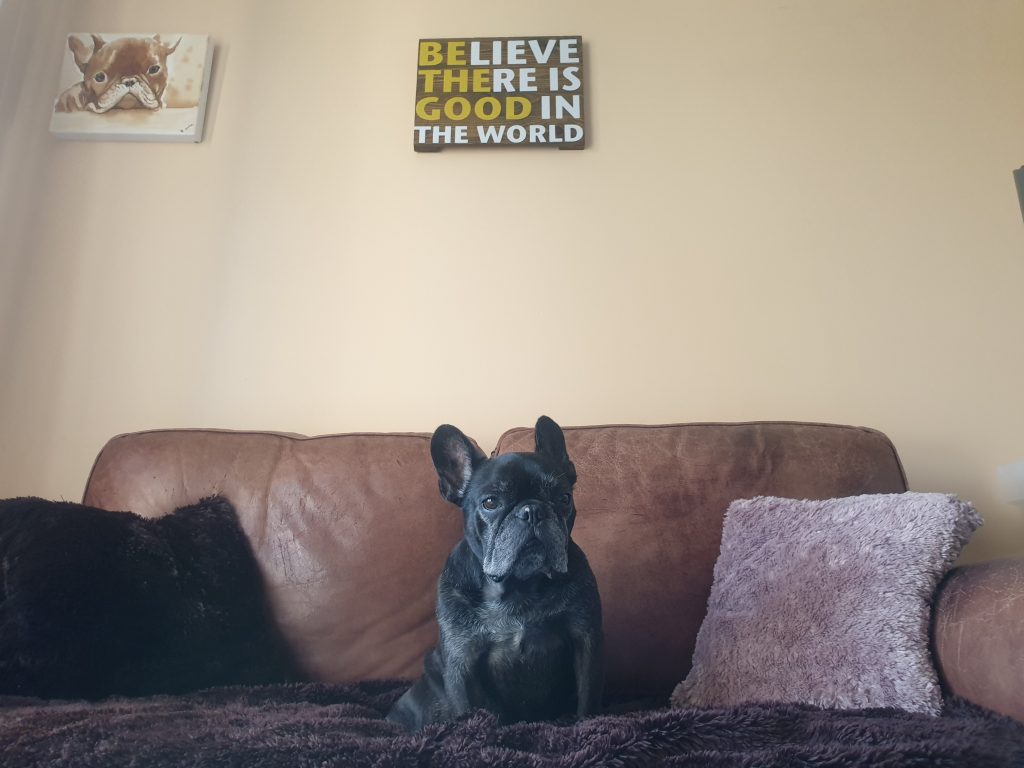 I work with couples and individuals in my office in the front of my home in Forest Lake. Pepper, Tulip and I greet our clients outside and walk them inside to a seat. Pepper and Tulip give my clients a sense of relief and calm while we discuss matters that brought them to the therapy room. One time while a woman wept, Pepper jumped up next to her on the couch and licked her arm. Pepper seemed to sense she needed the comfort and it was a beautiful moment.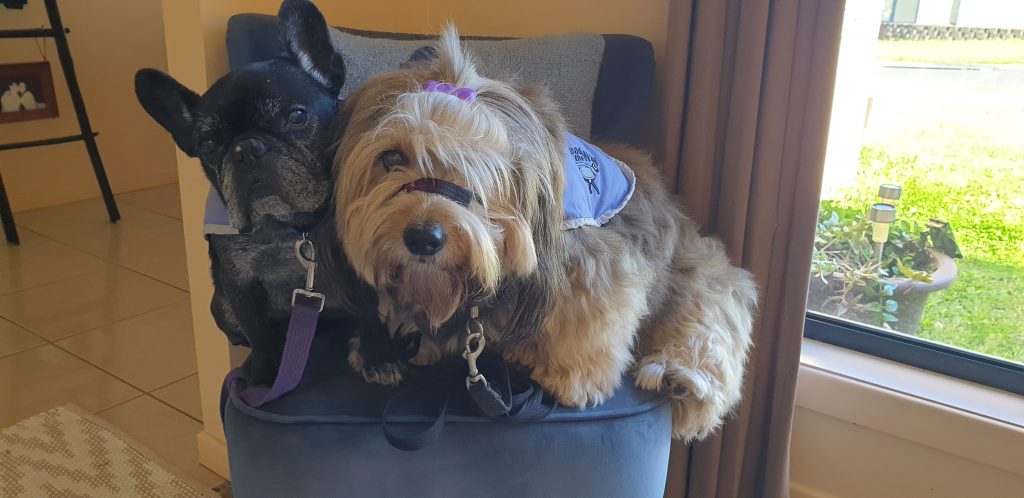 You can connect with me at Effortless Action Counseling and on Facebook.
My name is Emily Conolan, and my counselling space is a refurbished 1970s caravan called Frida, in South Hobart, Tasmania.
I always feel a sense of ease and delight when I step into my caravan. It's decorated with textiles and art I picked up on my travels, miniature cacti and 'strength stones' that I made myself, and a big work-in-progress mural by the entrance.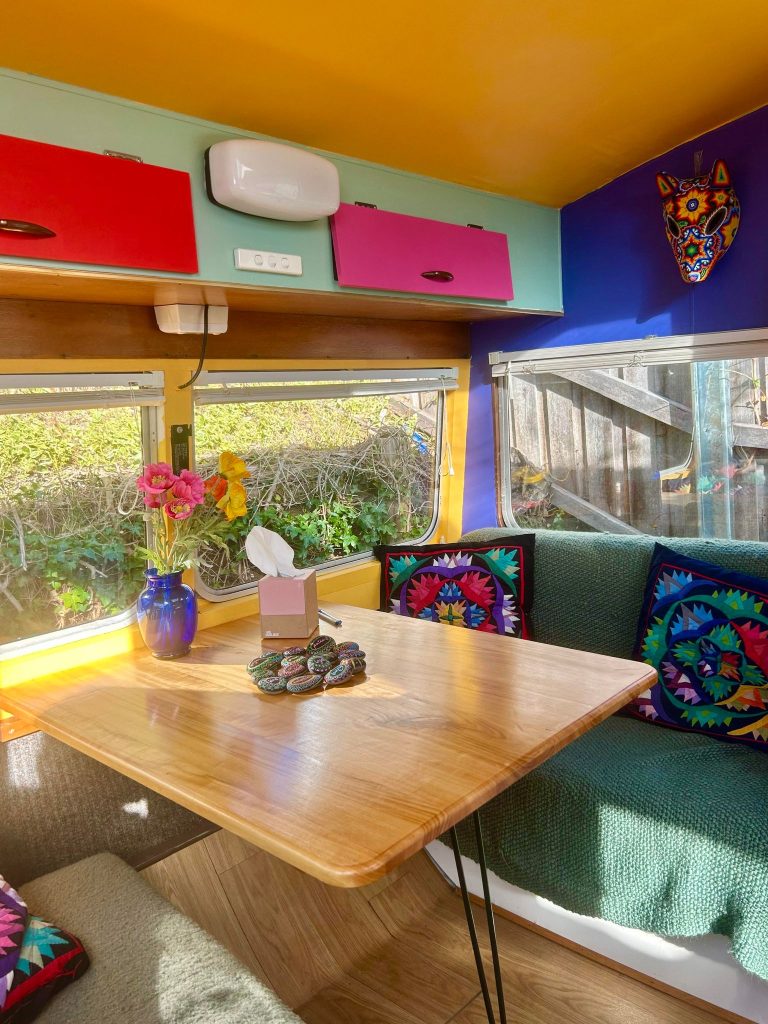 Frida's big skylight lets in lots of sunshine, and the cupboards are stocked with cups of tea, and vintage tins where I keep creative supplies for clients to use.
I didn't make Frida as a counselling space. When I bought her, I was going through a hard time and needed a sanctuary for myself, so I filled her with things that brought joy and comfort purely to me. Maybe if I'd created the space with others in mind, it would have turned out more 'Zen' or neutral – but then she wouldn't be Frida!
I had some concerns about claiming this as my counselling space. Frida is parked next to my house, so clients who come here in person know where I live, and may even have to come inside if they're desperate for the loo. That was a compromise I was prepared to make to have such a beautiful, accessible, and rent-free space; but I know not everyone would make that call. At first, I was worried that the riot of colours and decorations would be overwhelming for some clients, but so far I've found that people seem much more relaxed here than they would be in a clinical setting.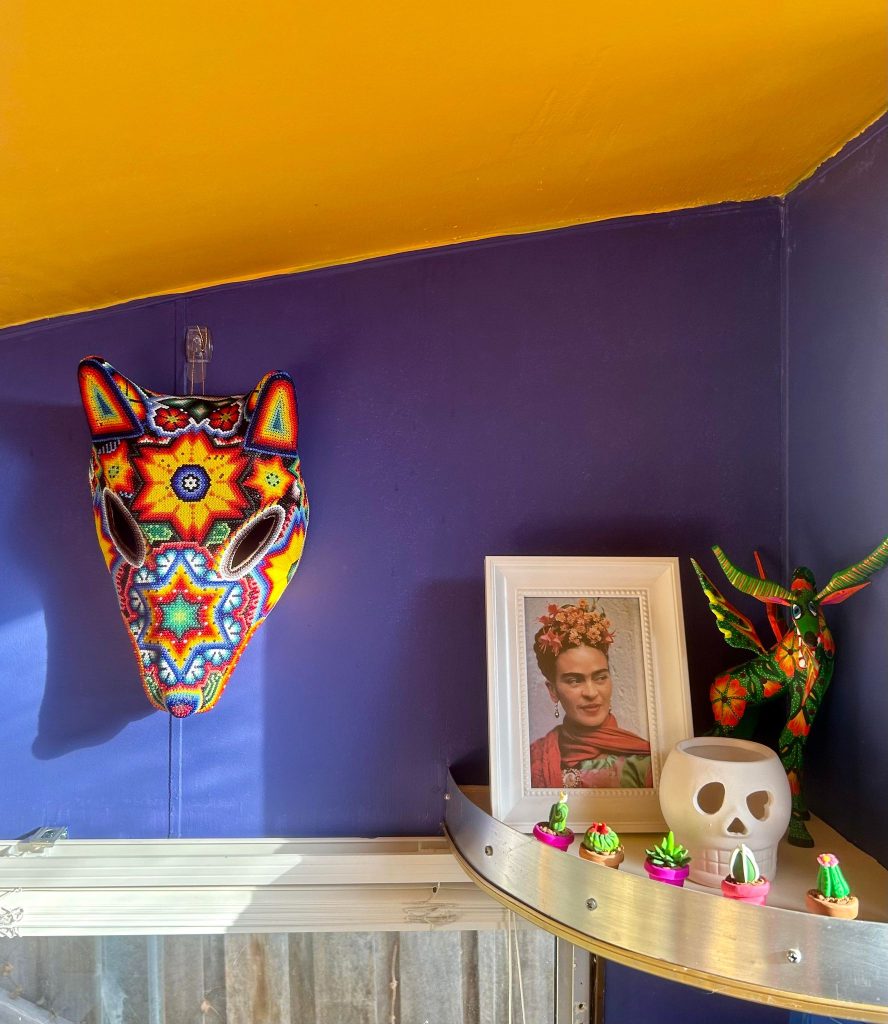 My teenage son (who is very wise) pointed out that having other things to look at reduces the intensity of having to 'eyeball' your therapist all the time. The biggest thing I love about Frida is that, because she's such a heartfelt expression of who I am, she automatically attracts clients who are a great fit for me. I've set up a special space that actually does some of my work in welcoming and holding the therapeutic relationship.
I hope that other therapists feel inspired to create their own unique spaces that reflect who they are and the gifts they have to offer.
You can connect with me via my website.
Integrative Arts Psychotherapist in Essex, U.K.
My art therapy studio is in my back garden. Although the garden is quite small, it's on a slope, with the studio at the top, creating a natural separation. There are houses all around but it still manages to feel quite secluded, especially in summer when the trees are all in leaf. You can hear lots of birdsong, and the sound of wind rustling the leaves; my clients and I find this really calming for our nervous systems.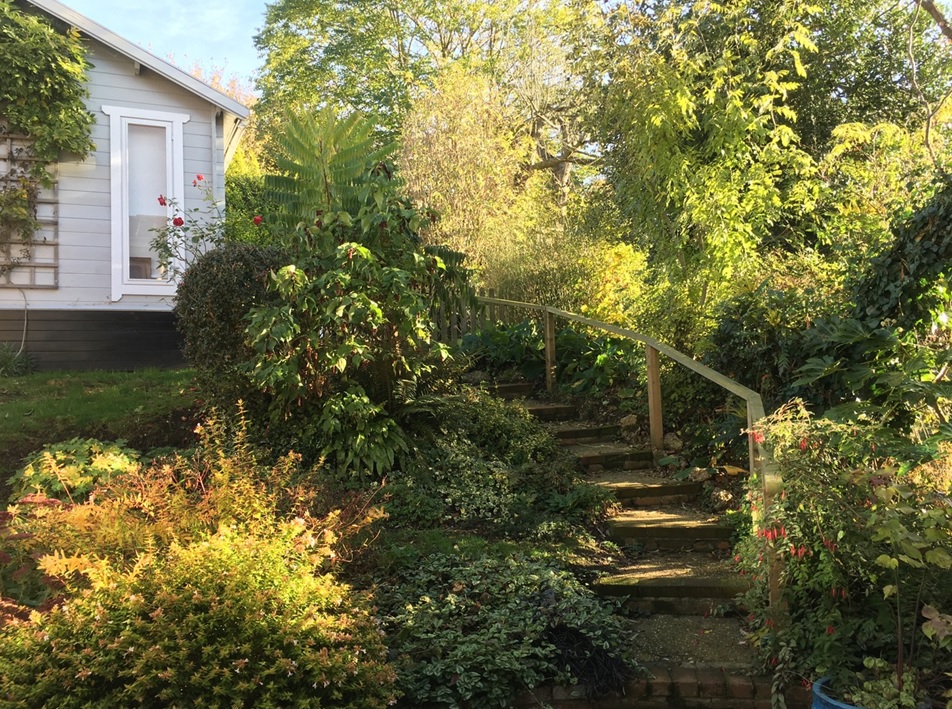 Inside, the studio is packed with arts materials and other creative therapy items such as puppets and sandtray. I only work with adults, not children, so things tend to stay relatively ordered, despite there being an element of messiness. I also think that any splashes of paint just add to a sense of 'we don't try to be perfect in here', which opens up a sense of exploration and permission to just be oneself. I love my art therapy studio, and clients often tell me they do too!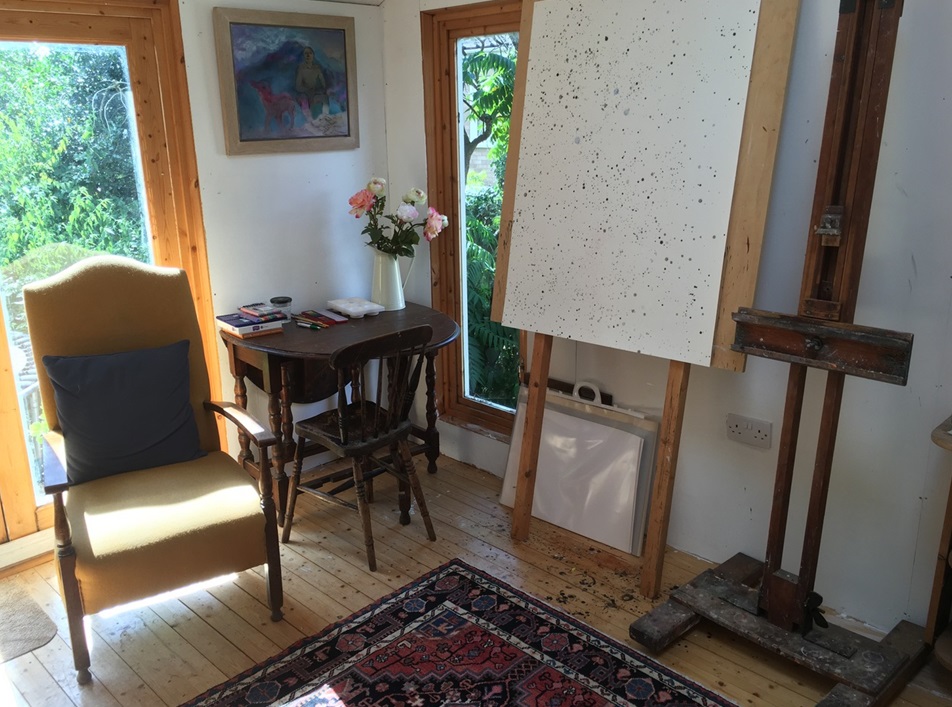 You can connect with me at Emma Cameron and on Facebook.
Integrative Psychotherapist, Trauma Specialist, and Trainer for therapists in Liscannor County Clare Ireland.
My therapy room was purpose built in my back garden on the west coast of Ireland. Living on the 'Wild Atlantic Way' I practice psychotherapy both indoors and outdoors. Being very aware of the therapeutic benefits of the natural world the focus in my therapy room is on bringing the outside in, while remaining cosy, comfortable and inviting.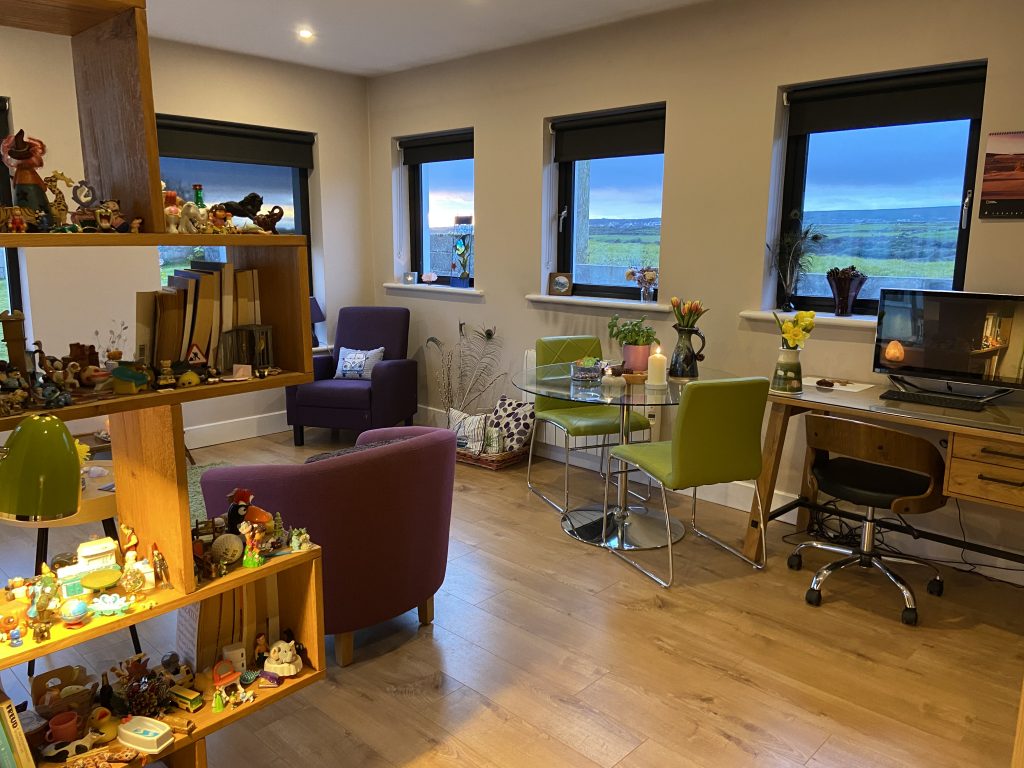 With the sea to the front and sweeping hills to the top of the Cliffs of Moher behind, my therapy room has windows on three sides. I love the light in the room with the sun rising over the sea and setting over the cliffs, it dances around the room. Even on the grey wild days clients can have an encounter with the power of the environment and the raging sea as they step out of their cars.
Clients may bring their gaze to outside to orient and regulate themselves and sometimes get a treat of a surprise pheasant or a hare passing through the garden.
My room contains plenty of natural materials, such as shells, stones, bits of bark, peacock features, potted herbs, fresh flowers and pictures of nature. In fact, most of the items in the room have a nature focus even down to the coat hooks and cups! I love my big wooden book case which acts as a room divider and holds my books and sand tray collection.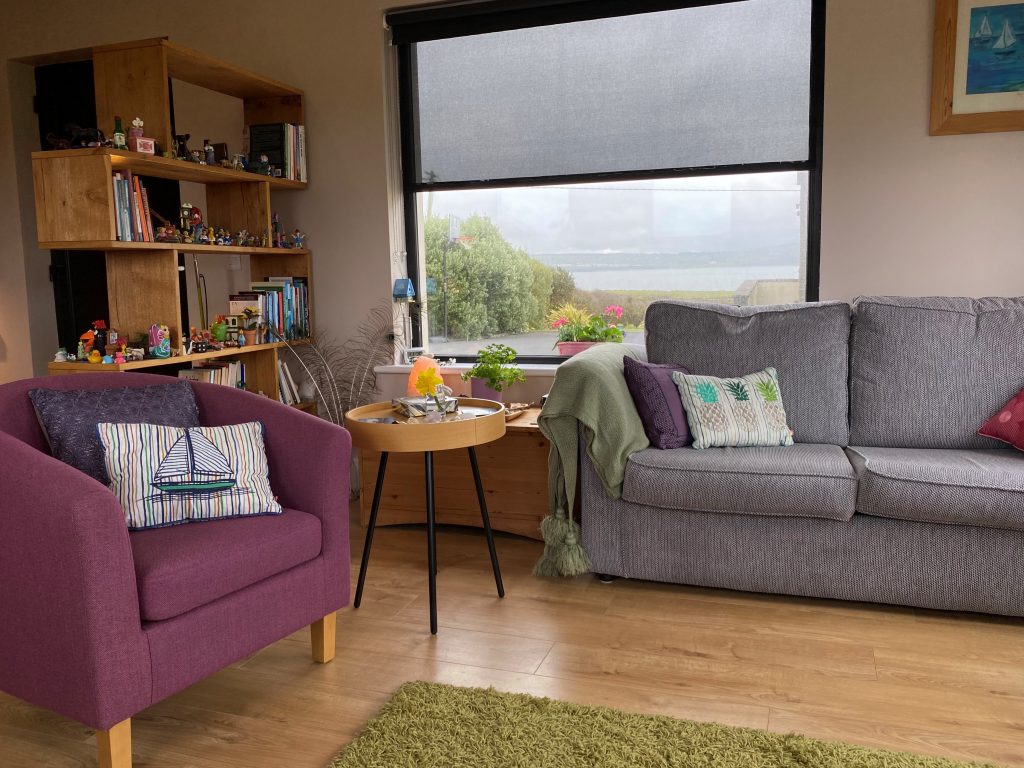 While my therapy room has been closed intermittently over the past year due to COVID-19 restrictions, it is a vital backdrop when I work online with clients so that they can find some ease in the scene they look at, while online.
Connect with me at Psychotherapy, The Wild Atlantic Way and on Facebook.
Blog Author of Home Office Therapy Rooms and founder of The Psychosynthesis Centre: Coaching & Courses for Therapists. Grad. Cert. Professional Supervision (Clinical), MA Psychotherapy, Dip. Therapeutic Counselling, BSW, Cert Eating Disorder Coach, Cert Eating Psychology Coach.
I am a psychotherapist, counsellor and coach in private practice on the Northern Beaches of Sydney, Australia. I am also the founder of The Soul Centre and the Soul Sessions with Jodie Gale podcast for women who are seeking to recover from early childhood trauma, disordered eating and the trance of unworthiness.
For 20 years I have worked out of a home office therapy room inside my house. It worked well for me right up until COVID when we made the decision to build a new separate entrance, soundproofed counselling and psychotherapy office for me to work from. You can read all about the building process on my blog Work From Home: How I created a Sacred Space, Home Office, Therapy Room.
I created this sacred space starting from the vaulted ceiling and my floor to ceiling bookshelves. I wanted to keep the space light and bright so I painted the walls and the ceiling white. From a Health at Every Size perspective, it is important not to have unsteady chairs and arms that would restrict larger bodies so I specifically chose a 2.5 seater sofa for clients so that it would be comfortable for women of all shapes and sizes.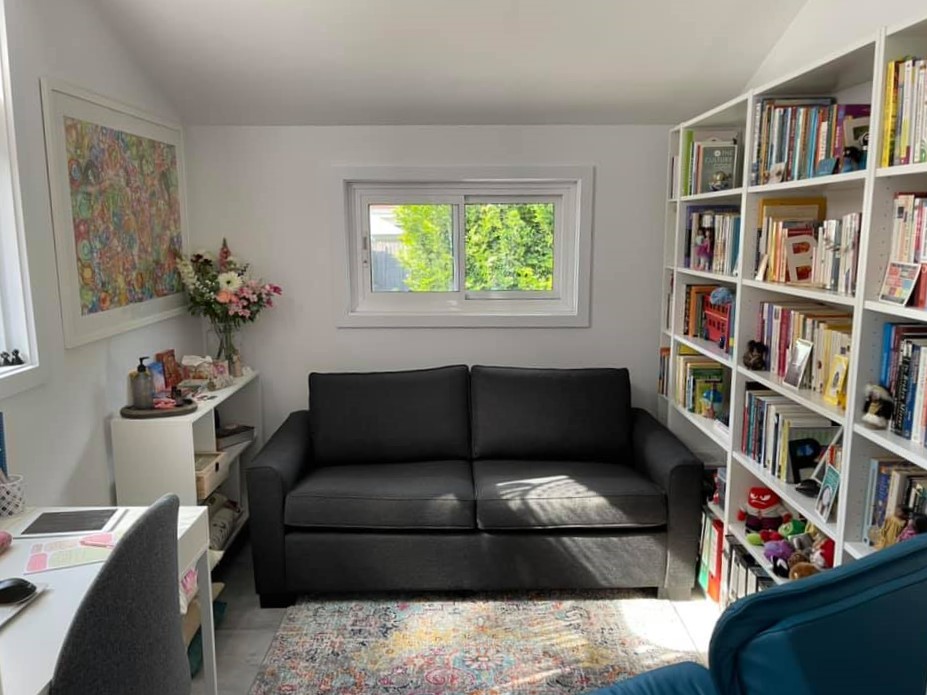 I work from a psycho-spiritual perspective and use inner child and parts work so there are many items around the room, such as a selection of cushions, cards, post card images, deities and figurines that I have collected from women's workshops from around the globe, items from nature, dolls, toys, stuffed animals, a Czech witch and so forth.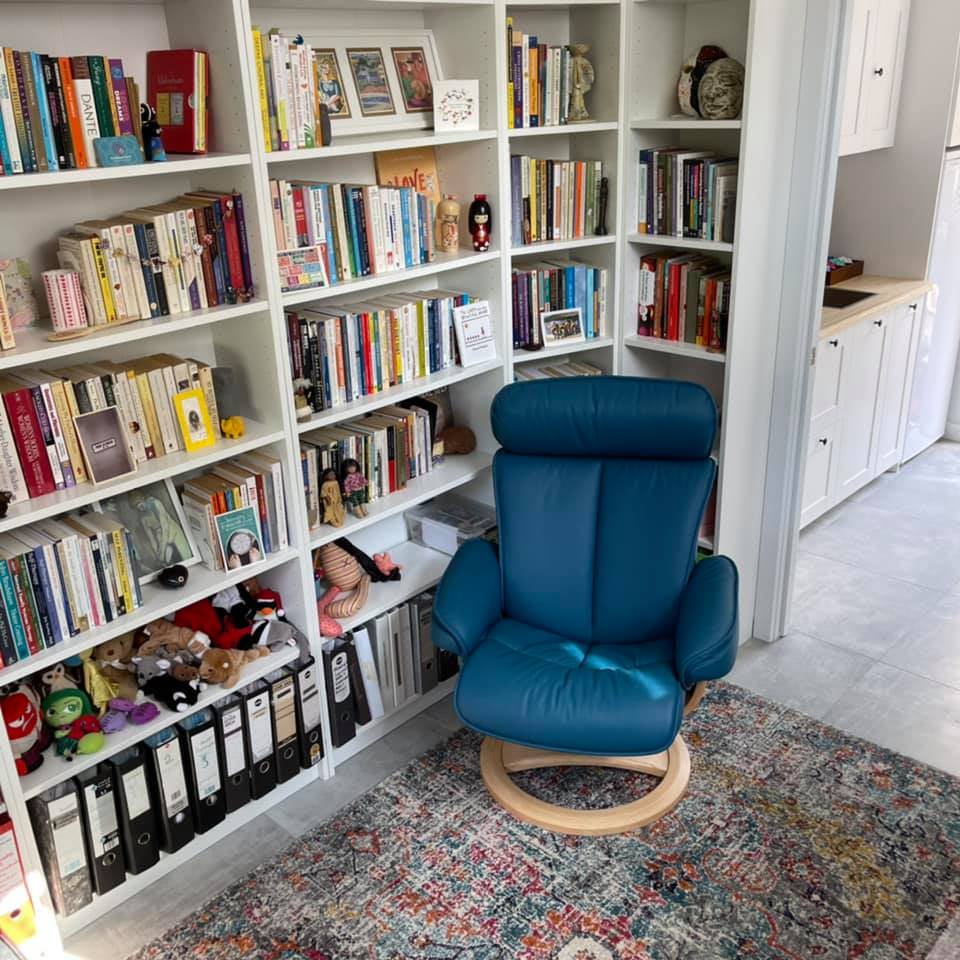 I love working from home and both times I thought I might like to hire an office somewhere, I lasted at most a month before returning home. With a separate entrance, I have the best of both now.
You can connect with me on Facebook and in my Facebook Group, Opening the Door on Private Practice
MS, LPC, NCC in Wisconsin, USA. I am a Licensed Professional Counselor, Nationally Certified Counselor, Licensed School Counselor and owner of Counseling Outside of the Box, LLC. I specialize in working with children of all ages and have been doing so in some capacity for the past 17 years.
I have created a safe and cozy place for my clients on my farm in Wisconsin. I utilize many age appropriate interventions to help support my clients in working to achieve their mental health goals. Some of my favorite therapeutic interventions are therapeutic games, bibliotherapy, CBT, psychoeducation, art projects as well as incorporating sand tray and miniatures into client sessions.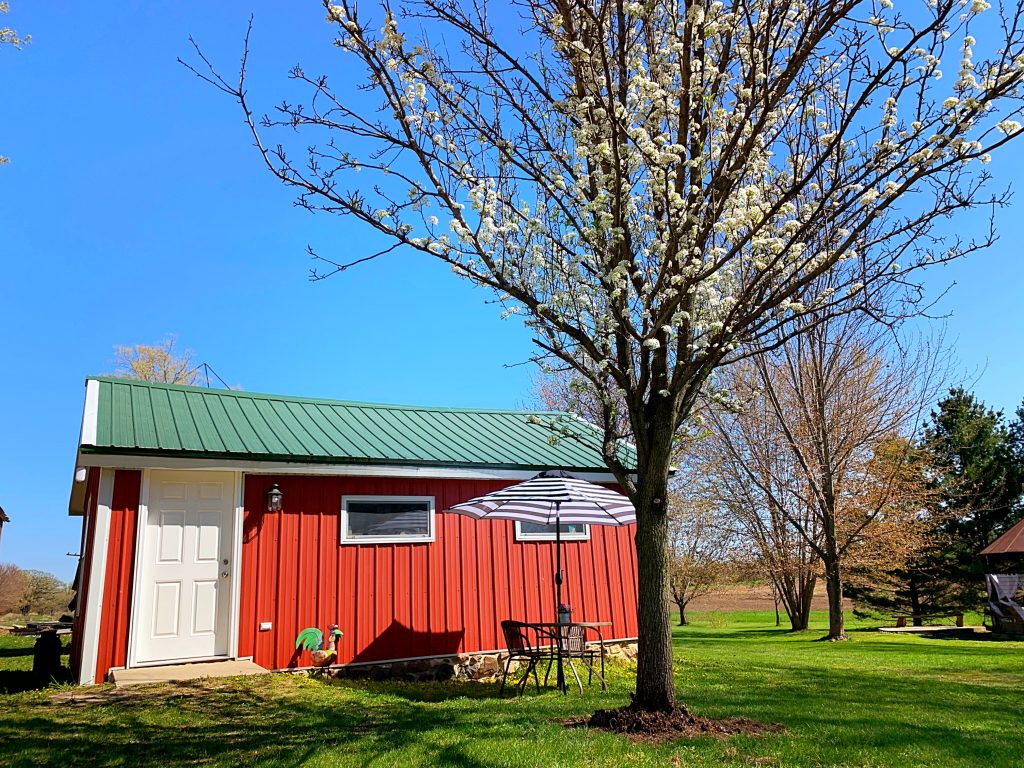 As the author of the children's book, How Frederick Found His Light, I spend quite a bit of time presenting and sharing this story with others. How Frederick Found His Light is a story to help children better understand the feelings of sadness and depression. This story can be used to help children talk about these intense feelings and be a gateway to start discussing signs of suicide with children as well. My illustrator, Dan Romens and I worked together to create some free resources to help adults utilize our book to talk with children about this important topic.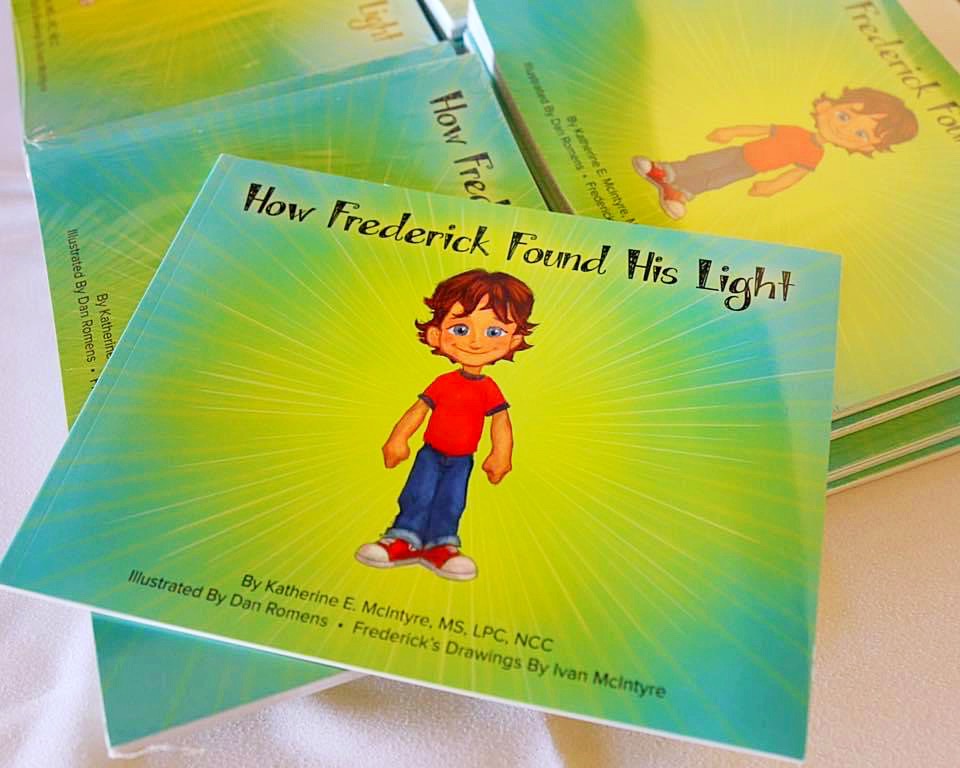 My primary office space, which I affectionately call "The Art Barn", is located in what used to be an old chicken coop. My husband transformed it into what is now a cheerful and uplifting space; perfect for counseling children in. The Art Barn offers just enough square footage for storing games, a vast amount of art supplies and my extensive sand tray miniature collection.
When my clients come through the Art Barn door for the first time their eyes light up and a joyous grin appears on their face. Which, in turn, makes me feel joy to know that I have created a place that they can feel comfortable in. My outdoor office space was created from the shell of a former corn crib and offers a relaxing and therapeutic getaway on warm summer days. It is set back by a row of trees with views of the farm field as well as my barn.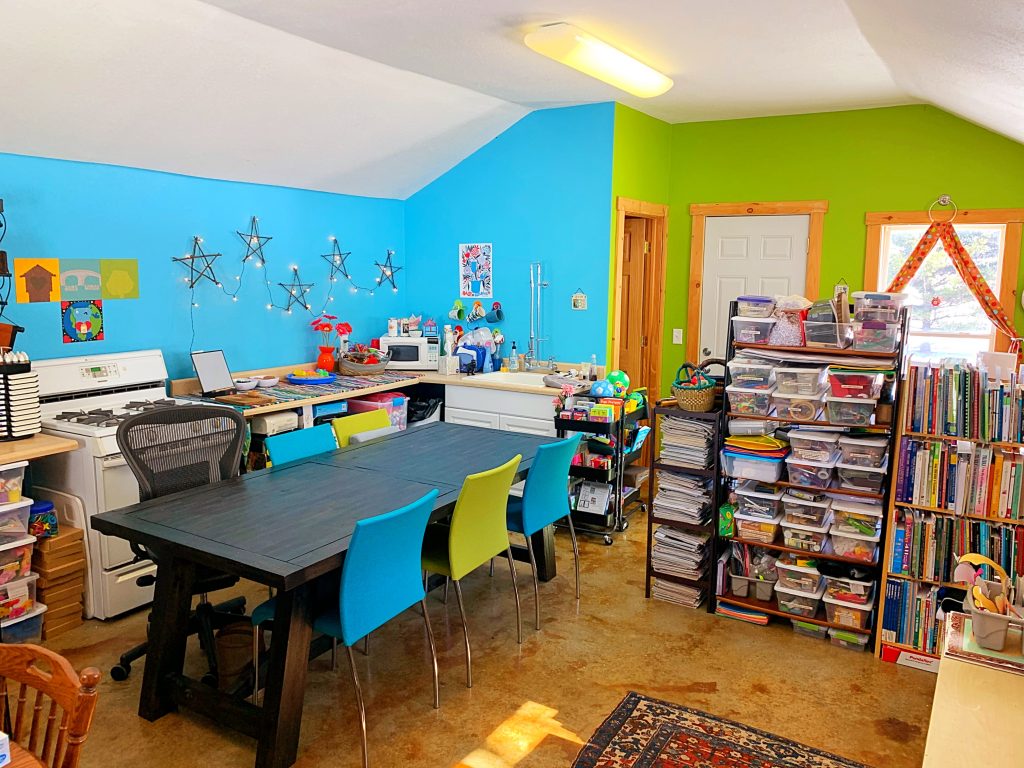 It is of the utmost importance to me that I provide a safe, cozy and caring environment that my clients can thrive in. I am so grateful and blessed to be able to do this type of work. It is in my soul to help others and support them on their mental health journey.
You can connect with me at Counseling Outside of the Box and on Facebook.
Registered Counselling Therapist (Candidate) in Dartmouth, Nova Scotia, Canada
I am a down-to-earth counsellor from Canada's east coast of Nova Scotia. I believe in taking adults, youth, children and couples where they are and helping them identify strengths and traits that will help them move forward. I specialise in grief, stress and relationships. I also work as a full-time counsellor in schools.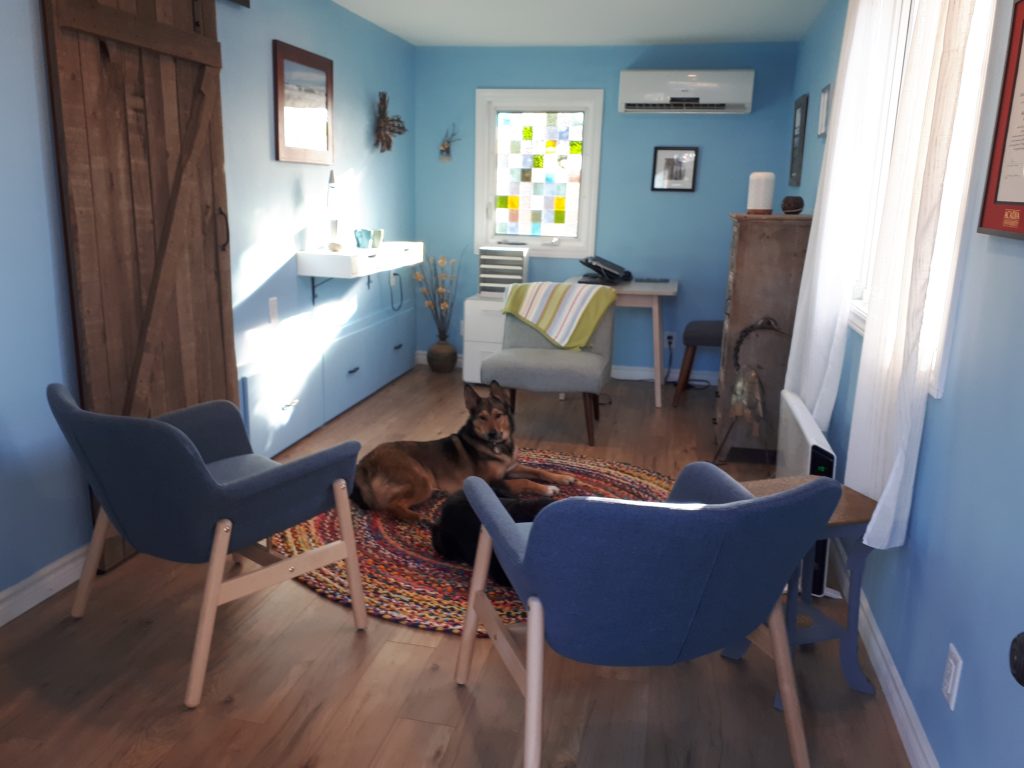 I am excited to finally have a place of my own to practise, and love the personal touches that come from my sister's beautiful custom stained glass piece, a barn door that was a family project, and my own nature photographs. This private, bright room is partly inspired by driftwood and the ocean, and has beach stones, natural wood and rustic metal textures, chosen to help clients feel at ease. I wanted the paint colour to be both energizing and peaceful, and added the brightly-coloured rag rug to make the space feel more relaxed. My dogs, Juneau and Wally, also help clients feel welcome and comfortable.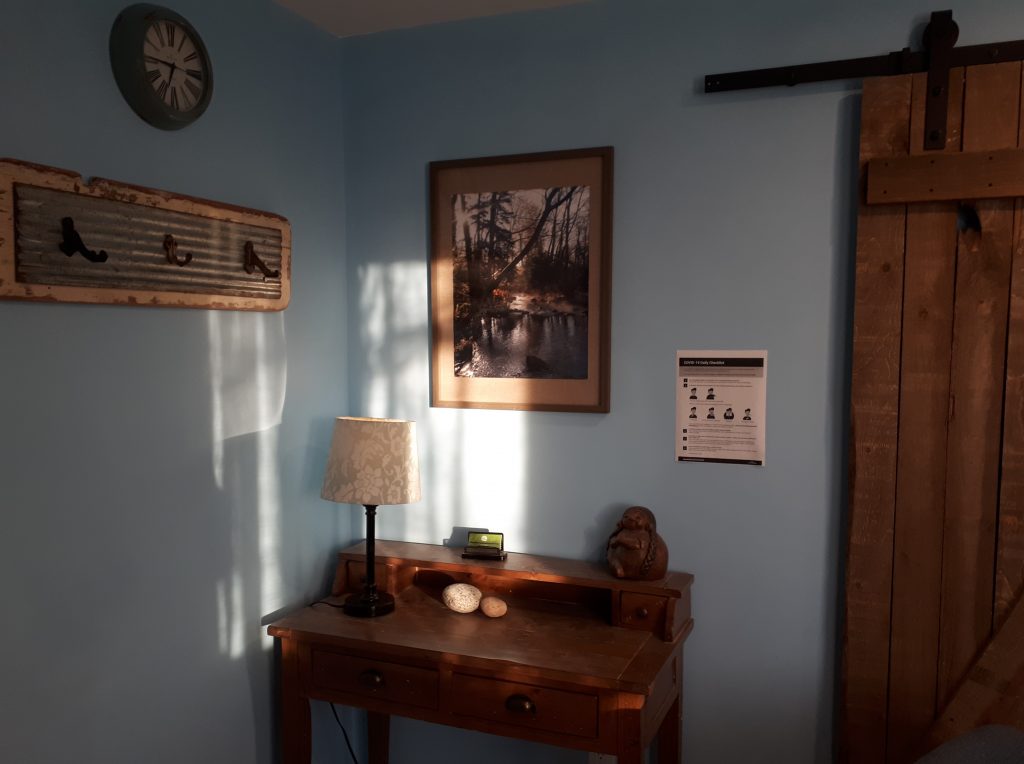 You can connect with me at Demster Counselling and on Facebook.
Psychotherapist and Counsellor in Paddington, Sydney, Australia.
For nearly a decade, I have taught across a wide range of modalities including Psychodynamic, Narrative, Creative, Solution-focused, Mindfulness, Person-centered, Transpersonal, Existential, Jungian, and Gestalt, as well as Acceptance and Commitment Therapy (ACT), Dialectical Behavioural Therapy (DBT), Grief & Loss, Shadow Self and Cultural Diversity. I have taught at WSU (Western Sydney University) and ACAP (Australian College of Applied Psychology). In addition to teaching and seeing clients, I also facilitate private full day workshops.
​In Private Practice, I fold in my ability to work metaphysically with clients who wish to work this way. This may include seeing spirit (alive and passed), re-aligning the energy bodies, templates and chakra systems, re-integrating soul fragments and past life metaphysical healings.
The energy in my room feels safe and grounded. Clients get a sense that they are stepping into another timeline and in some ways this helps them drop into a deeper part of themselves.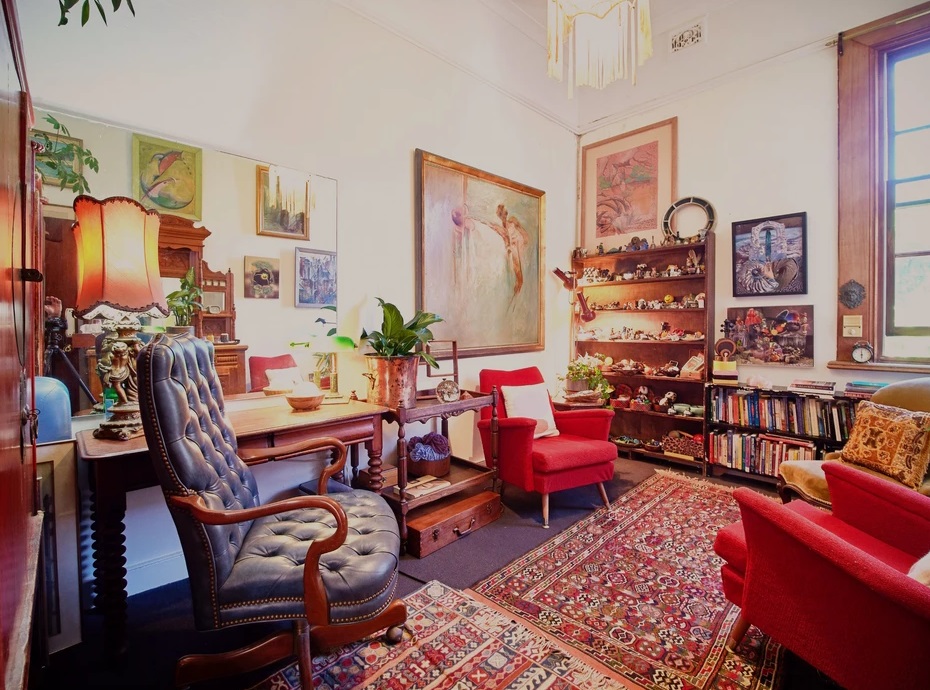 To get to the room, clients wait in a private nature filled front courtyard, and then walk through the hallway of our very arty place which encapsulates an atmosphere of nostalgic old world haven.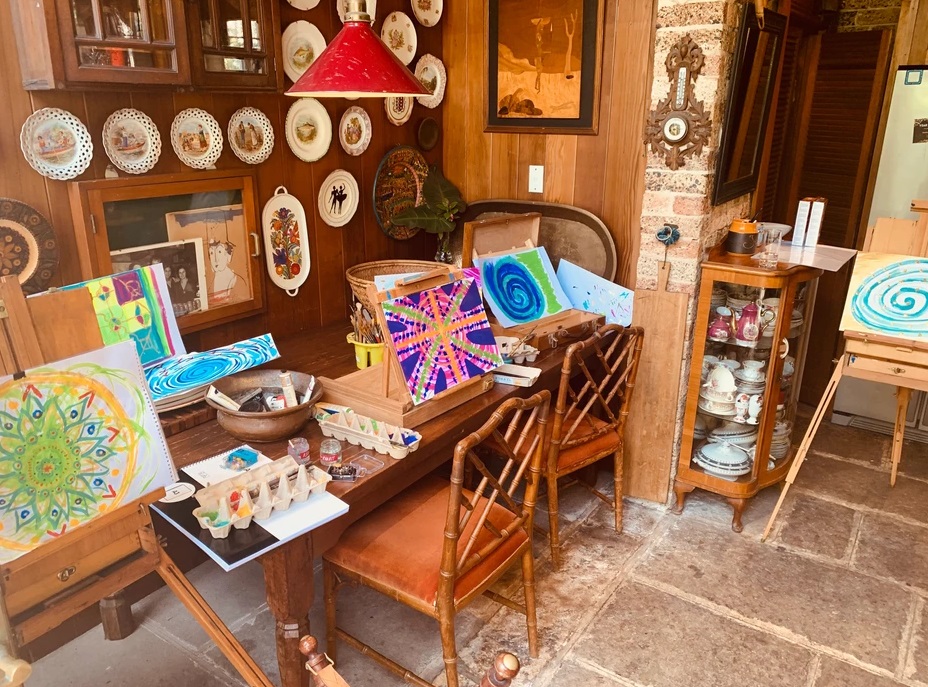 You can connect with at me Lorraine Arnold and on Instagram.
Licensed Marriage & Family Therapist at The Counselor's Coach in Glendora, California & Cambria, California, US.
I am the founder of Growth Counseling Services specializing in mindfulness based therapy, betrayal trauma and sexual compulsivity. I provide counseling, telehealth and nature based therapy to individuals and couples within the state of California.
In addition to my clinical work, I am a teacher and the author of, Healing from Betrayal, and The Creative Clinician: Exercises and Activities for Clients and Group Therapy, and the co-author of Facing Heartbreak: Steps to Recovery for Partners of Sex Addicts.
This is a relaxing and peaceful room in my home where I also provide therapy. My kitty Stanley finds this to be a comforting space as well.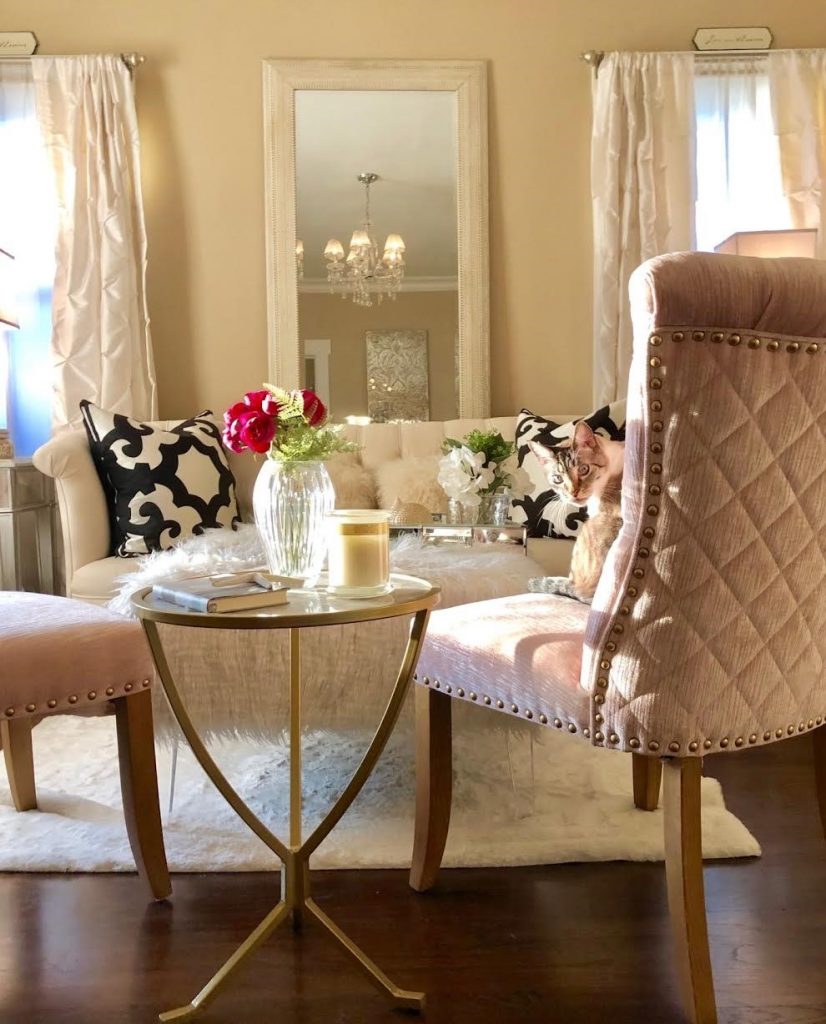 You can connect with me at The Counselor's Coach and on Facebook.
B Arts/ B. Social Work, M. Div, M. Clinical Counselling. I am a social worker and counsellor, working at the University of Sydney and in private practice at New Leaf Centre near Parramatta, NSW, Australia.
I invite my clients to enter into this warm, eclectic, safe space to work on their mental health and wellbeing. Just as this room is a collection of special treasures gathered from different places and from different times, I help clients accept where they have come from and find meaningful purpose in their daily life.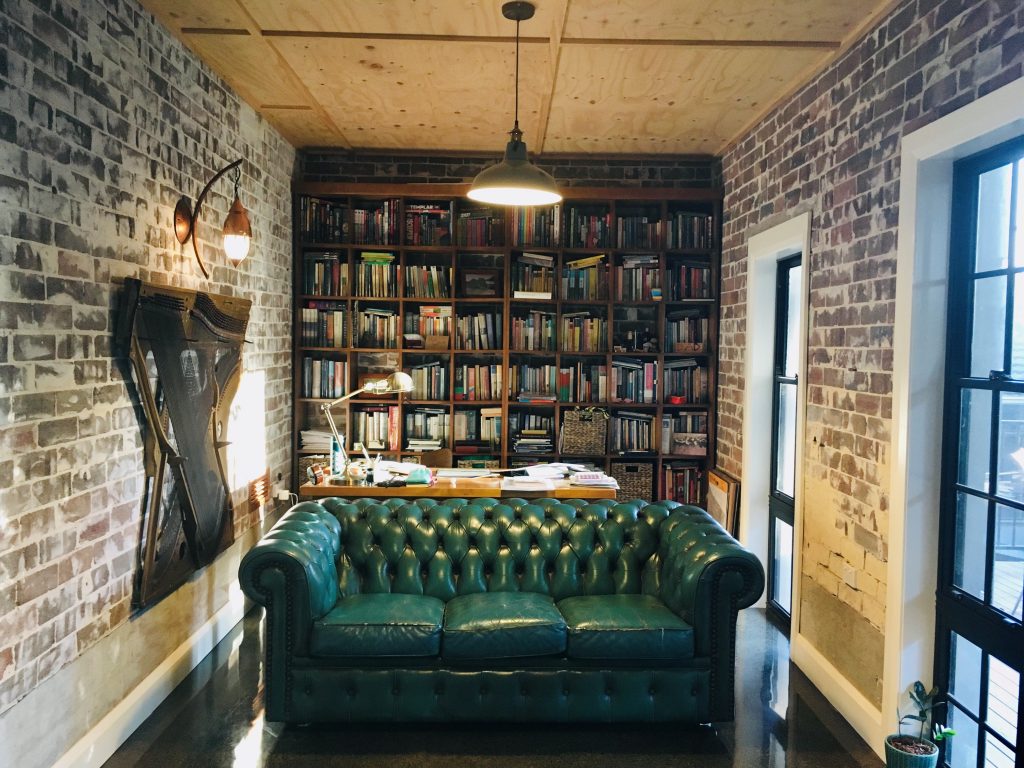 I renovated the space 3 years ago and it's a library/ home office/ counselling room.
Of importance to me is natural light to look out into my beautiful garden, beautiful lighting fixtures (recycled from the 1950s), recycled materials such as the green Chesterfield leather lounge, on the wall is a salvaged piano frame, New York style window frames and polished concrete floors.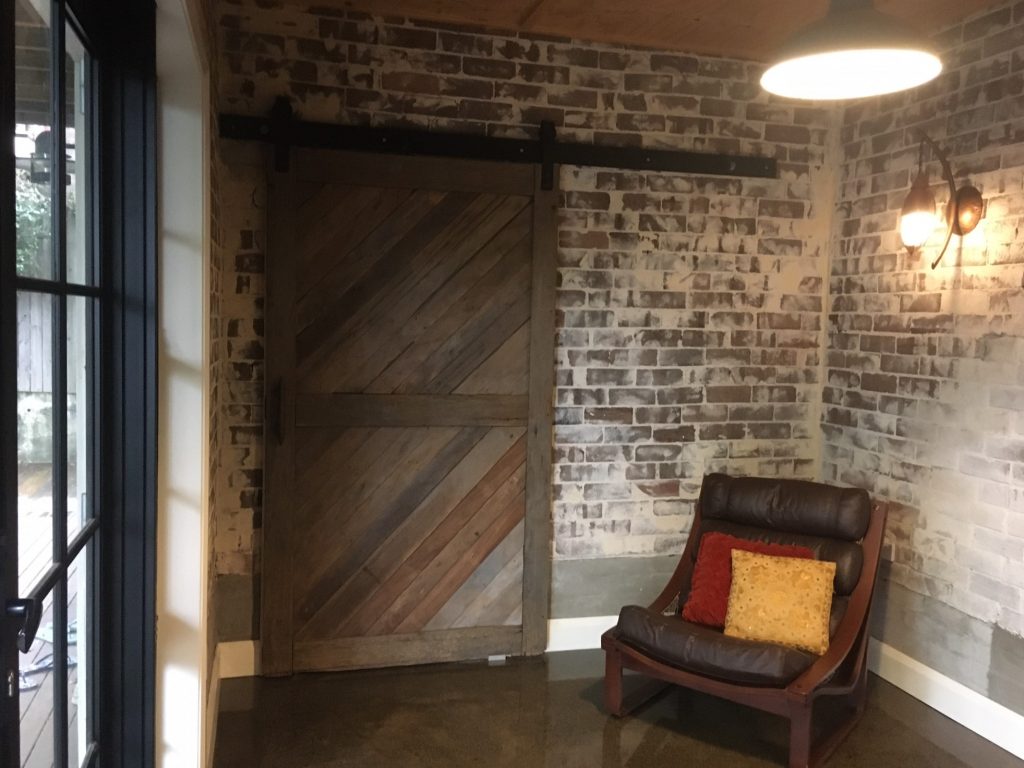 You can connect with me at The New Leaf Centre.
Psychologist, Founder and Director of the Resource Therapy Institute of Australia. I provide workshops and training in Resource Therapy.
With my husband Chris Paulin, I also run Marriage Works, a busy private practice, helping couples re-pair with couple therapy, heal marital issues to find relationship harmony. I love coaching singles to empower themselves, heal old hurts to have the relationships they desire.
My space is intimate and inviting. You will notice two chairs as I use, as an Imago couple therapist. We coach the couple to turn towards each other in a safe and structured dialogue, rekindling connection, compassion and fun.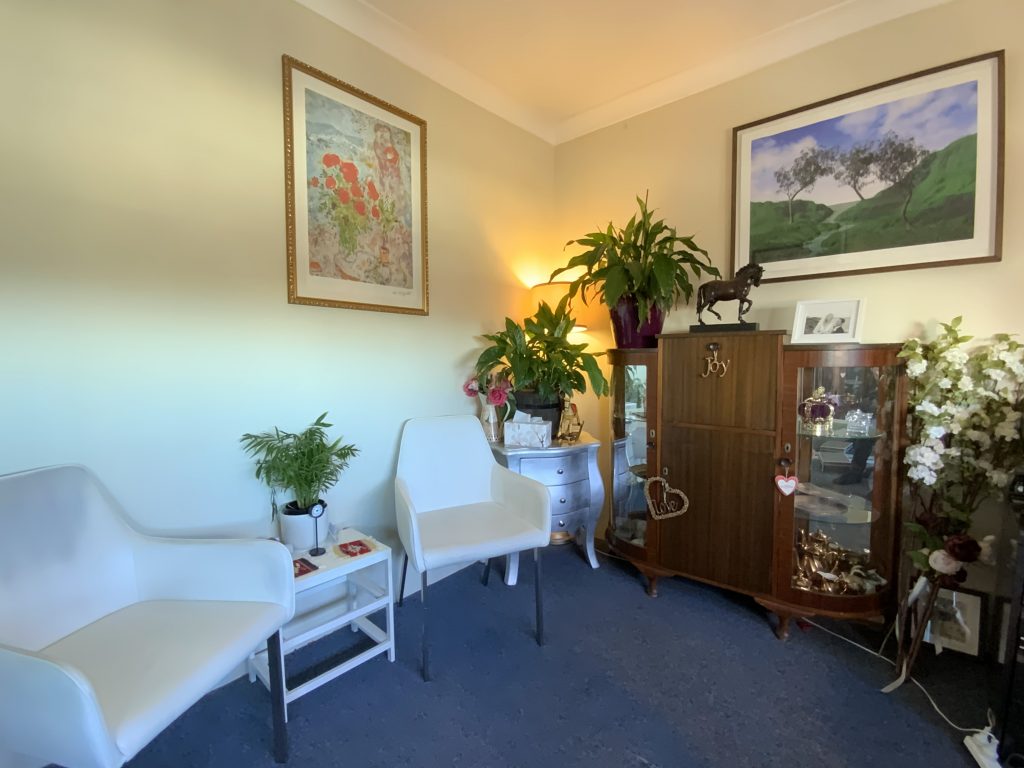 I love my plants and the soft lighting. I feel it offers the possibility of repair and growth, plus so good for us to have live beings in our space generating life giving oxygen. The Marc Chagall print is soft and romantic. I love pictures that inspire I have another of a river flowing through hills and trees, its very symbolic of the journey we are on in this world.
You can connect with me at Resource Therapy Australia and on YouTube.
Lived experience counsellor, trainer and founder of The Empty Cradle, a service for women transitioning to permanent involuntary childlessness. We support women who have lost the opportunity for motherhood to grieve the loss and create a life of connection, meaning and joy. We offer online counseling, group programs, workshops, resources and the power of a loving community.
We are passionate about the complexity of the human experience and what it means to live a good life. With over 30 years experience in counseling, teaching and community work, I am completing a Social Work Masters focusing on involuntary childlessness grief and motherhood loss. This disenfranchised non-death loss can leave women broken hearted and excluded from the world of children, mothers and families.
The "Lair of the Childless Woman" is a studio office space for online counseling and creative work. It reflects the different way childless people inhabit their domestic spaces. We have a tiny house yet a large shed for vintage car restoration and this creative studio space. It feels like the engine room for an alternative life and it's an honour to share it with you.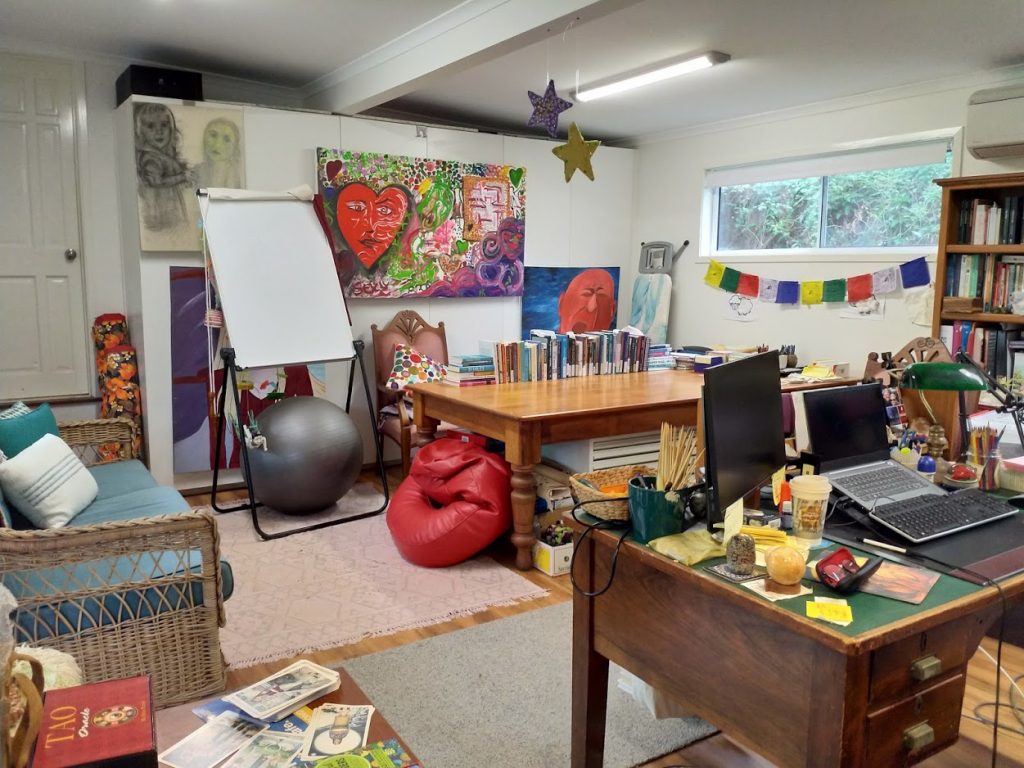 This studio office space is busy, yet personalized using creative organizing systems. Every morning I feel the sparkle and embrace of this colourful room of possibilities. The couch in the corner is for restorative naps and friendly visitors.
The painting collection "Zoe's ladies" by the artist Zoe Scroggings reminds me of the diverse and precious stories of the young vibrant women who find themselves at midlife in the dark tunnel of childlessness grief.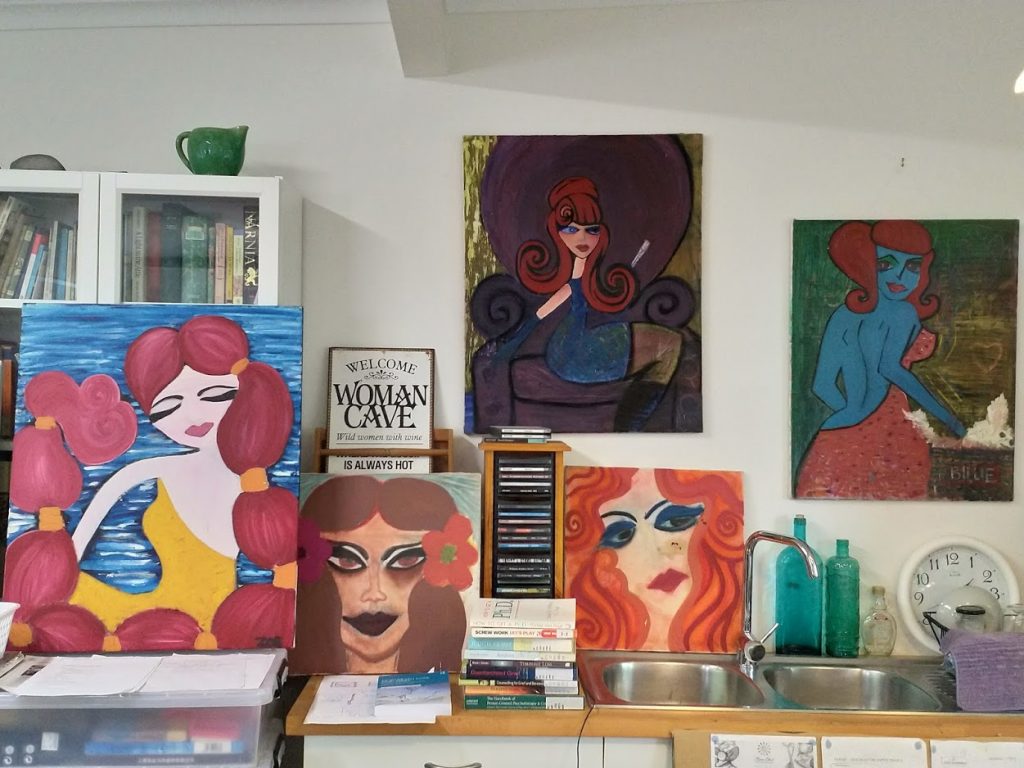 When the dream of your own intergenerational family has been shattered, there can be regrets, self-criticism, feelings of shame and worthlessness, and social isolation. Our work helps women navigate the grief, own their stories, connect with each other, and embrace the possibilities that lay ahead.
We love welcoming you into the often-invisible domestic spaces and lives of childless women.
You can connect with me at The Empty Cradle and on Facebook.