For 20 years I have worked out of a home office therapy room inside my house. It worked well for me right up until COVID. The first problem I encountered during our 9 week lockdown was having a whole street full of neighbours at home – the noise in the street became quite unbearable after 20 years of quiet during school and work hours. The second problem was having the kids at home throughout the homeschooling period. Finally, my husband and kids used to go to Grandma's on Saturdays when I saw a full day of clients. With COVID and my mother being 75, we made the decision to keep her safe by not visiting for most of 2020 and to build a new separate entrance, soundproofed counselling and psychotherapy office for me to work from.
The architect, Nikki Mote, designed the room by taking half of the children's playroom, the third bathroom and an old toolshed.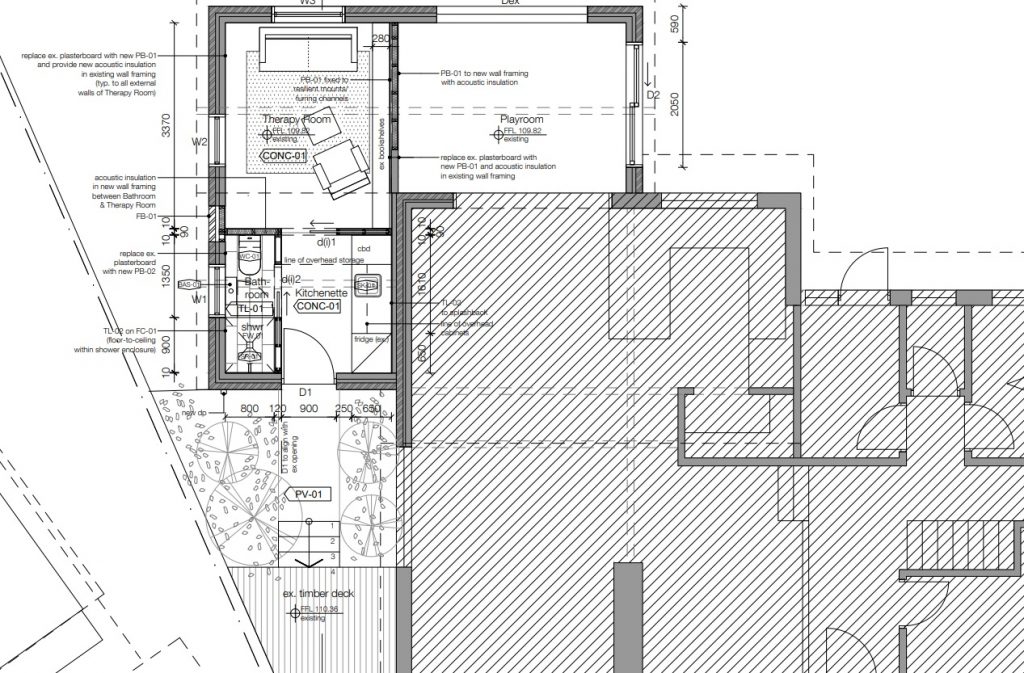 Knocking out the old bathroom and toolshed. Our two British Shorthair cats Bosley & Wentworth used to use this area so we built them a brand new catio! They love lounging around in the outdoors for the first time ever.
Removal of old deck and small window to replace with a new double glazed, entry door.
My husband Paul created the entrance and garden. He used the old decking to make the garden beds. The mirror on the entry wall was an ecotherapy project that I made with my children over the Christmas Northern Beaches COVID lockdown.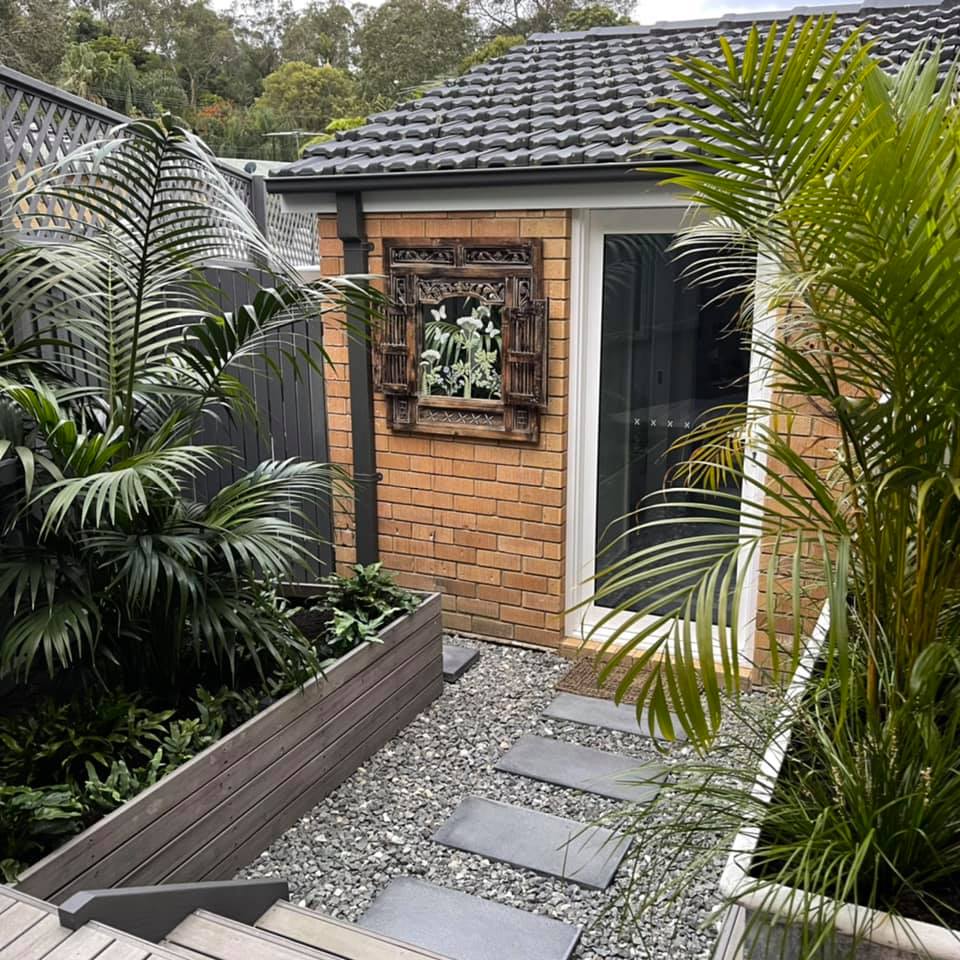 Soundproofing insulation was my number one 'must have'.
Gyprock acoustic plasterboard and grey polished cement tiles.
Vaulted ceilings make the room feel super spacious. I fell in love with this pendant light from Zanui! Air-conditioning is a must as I journey through menopause!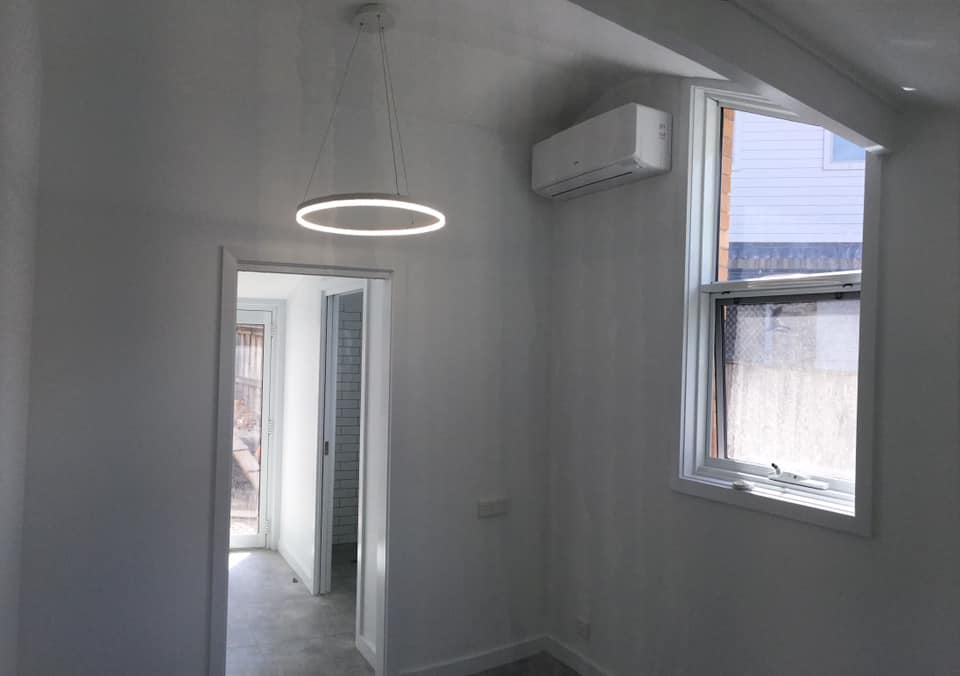 I needed something to dress the window to provide some privacy – I found this beautiful dream catcher, hand made in the Ukraine. Oxana made it to fit the space.
I commissioned Arna Bartz to paint this gorgeous artwork for me – it is my third commission with her. She wrote back to me afterwards and said, "So beautiful. I think you've shown how much you value your work by having art commissioned for it. And also supported the arts in a profound way". You can follow Arna on Instagram.
My sanitizer station on the lotus flower tea ceremony tray and guidance cards for personal and client use.
I had this bookshelf in my previous room. When I moved down to my new office, all of the books went back in the same place. The move for clients can be challenging so I try and maintain some kind of consistency. I sort my books by topic e.g. inner child, trauma, psychoanalysis, psychosynthesis, health +++
My home office, therapy room entrance – all of your feelings are welcome here!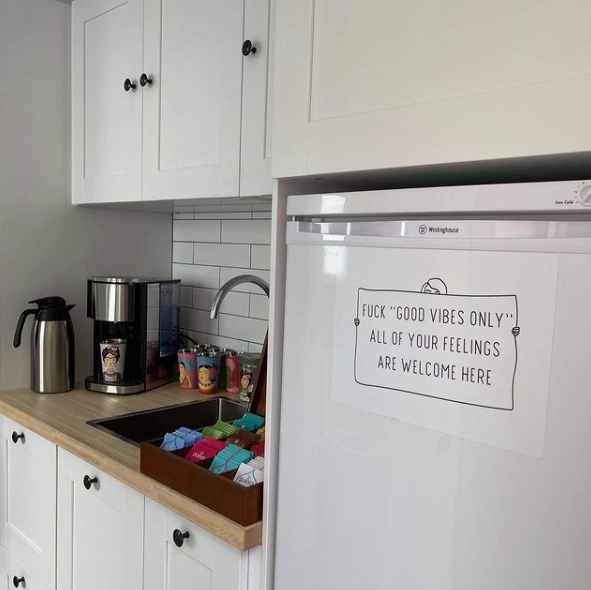 IKEA Kitchenette with Frida Kahlo tumblers, water and herbal tea station. My favourite tea to drink in-between clients is the Pukka LOVE tea.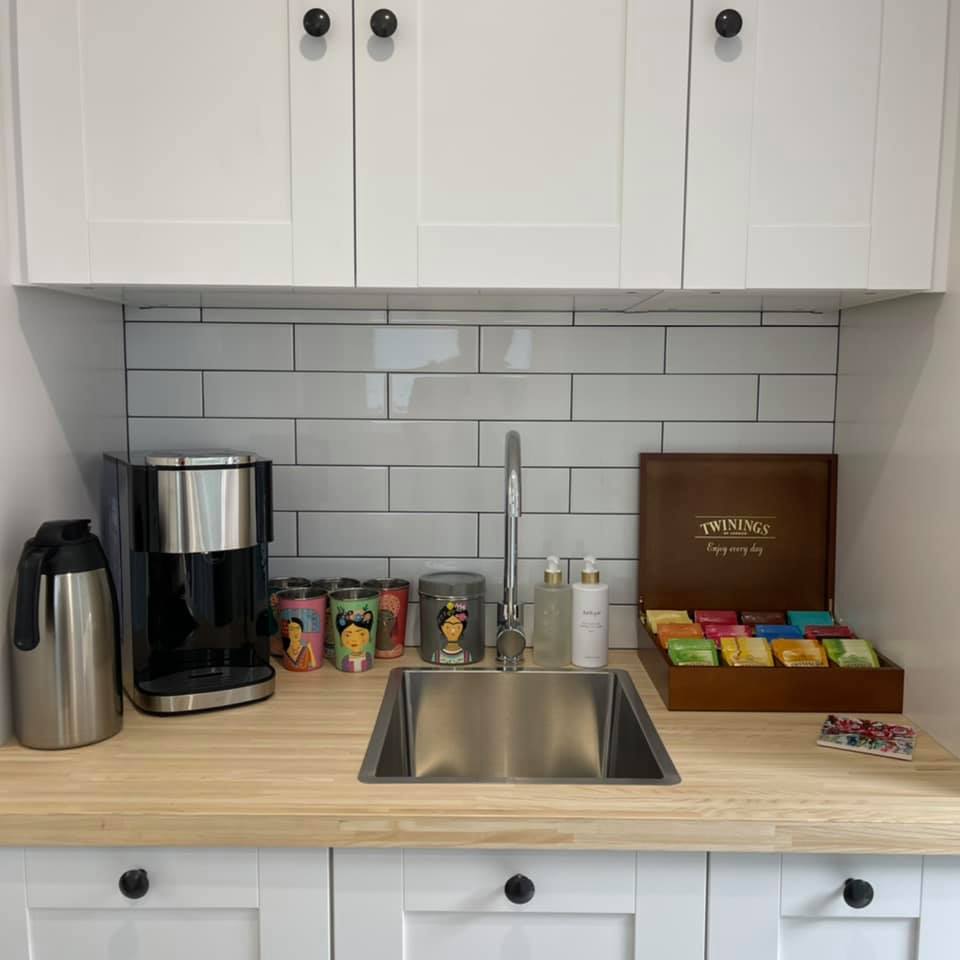 New York Subway tiles restroom with Jurlique hand wash and hand cream. One of the members in my Facebook group, Opening the Door on Private Practice recently shared her work day ritual – she washes her hands in-between each client, paying attention to the scent, sensation and then shakes her hands dry – releasing the energy and resetting. I am totally taking this ritual on! I use Jurlique because it is like the pleasure of walking through a rose garden – I love bringing nature from the outside in.
Thanks to Tait Building – I am so happy with my new space – I wish we had built it sooner!