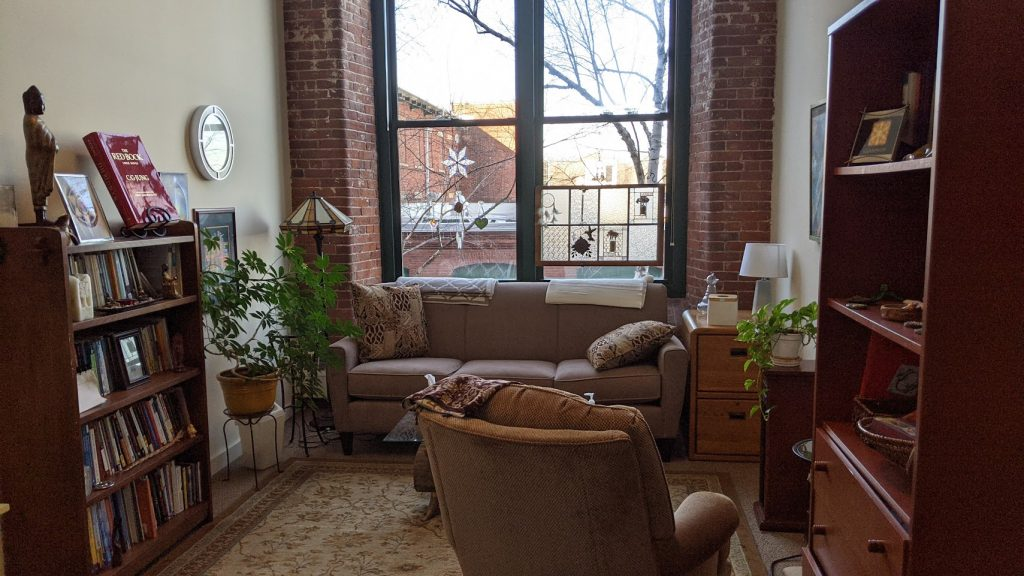 One of my most popular blogs ever was Inside 25 Counselling & Psychotherapy Rooms. I still get emails from therapists around the globe saying how much they loved it and how it was the first time they had seen inside so many other therapists' spaces!
So – I thought it was time to round up some more offices. The therapy room has come along way since then, and especially so in the last few years since COVID.
In this series, I am excited to share therapy offices, home therapy offices, online therapy offices and outdoor therapy offices. I hope you love taking a sneaky peak inside these spaces as much as I do!
Andi (Ondi) is a clinical psychotherapist in private practice in Sydney, specialising in the treatment of trauma. Her work is grounded in the Conversational Model of psychodynamic psychotherapy, Somatic Experiencing® and is informed by attachment theory and interpersonal neurobiology.
She holds a Master of Science degree in Medicine (Psychotherapy), Graduate Diploma of Psychology, a Bachelors in Counselling and she is a Somatic Experiencing Practitioner®.
Andi is a reliable coder of the Adult Attachment Interview and currently working on her PhD at the Brain and Mind Centre, collaborating in a research combined with the Westmead Psychotherapy program. Her passion is integrating her academic knowledge with the deeply known wisdom of the body, and her own experiences as a practising psychotherapist over the last ten ++ years.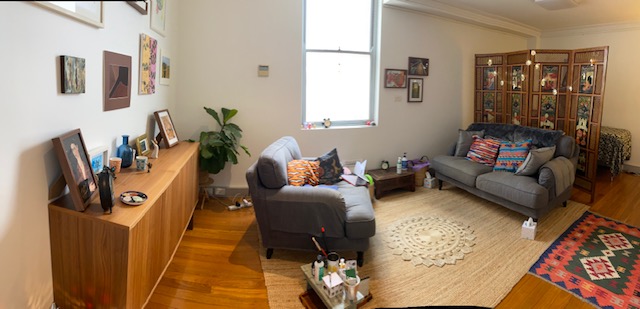 I created the space for adults as they are my main client base. I used warm and welcoming colours and textures.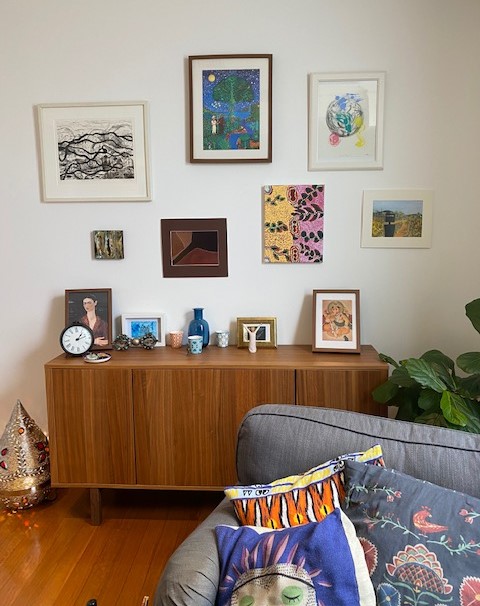 As a psychodynamic/somatic therapist it is important for me to use all the senses in the room in a calming and pleasurable way. The artwork is purposefully non-descriptive on the feature wall that the clients look at, so it can trigger the unconscious freely. Clients love the space, they often comment on how welcoming it is.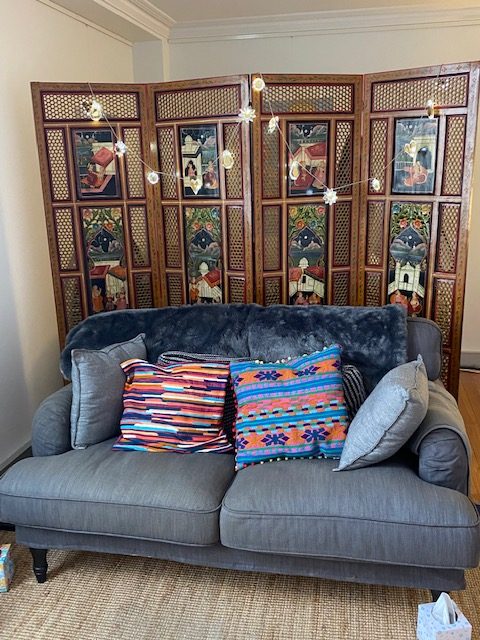 Connect with Andi on Instagram
Audrey McMorrow, LPC, is a heart-centered therapist who works in support of one's personal growth and reclaiming wholeness. She offers individual and group sessions sprinkled with tools from the spiritual, shamanic, Toltec, Psychosynthesis and Jungian realms.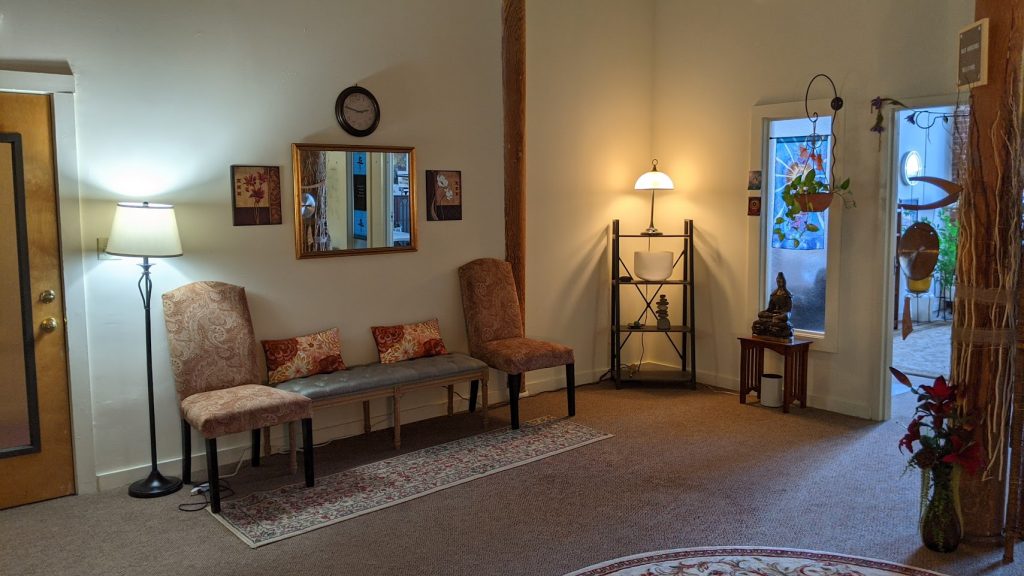 My office space reflects a sense of peace, calm, and comfort, and invites all to be welcomed. We are surrounded by paintings, lush plants, and two large bookcases full of resources that I often lend out. It offers a safe space that supports and helps facilitate the deeper work of body, mind, and spirit.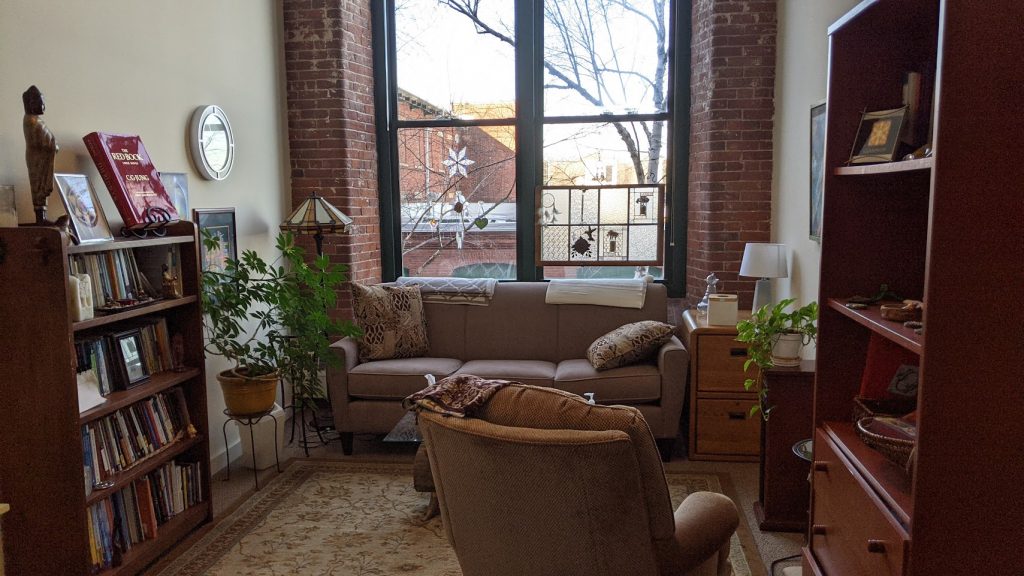 Our larger room offers workshops and classes on topics that build personal awareness and wisdom. This room offers a large wall of paintings done by a fellow therapist reflecting her visions while on a visit to the pyramids of Teotihuacan, Mexico.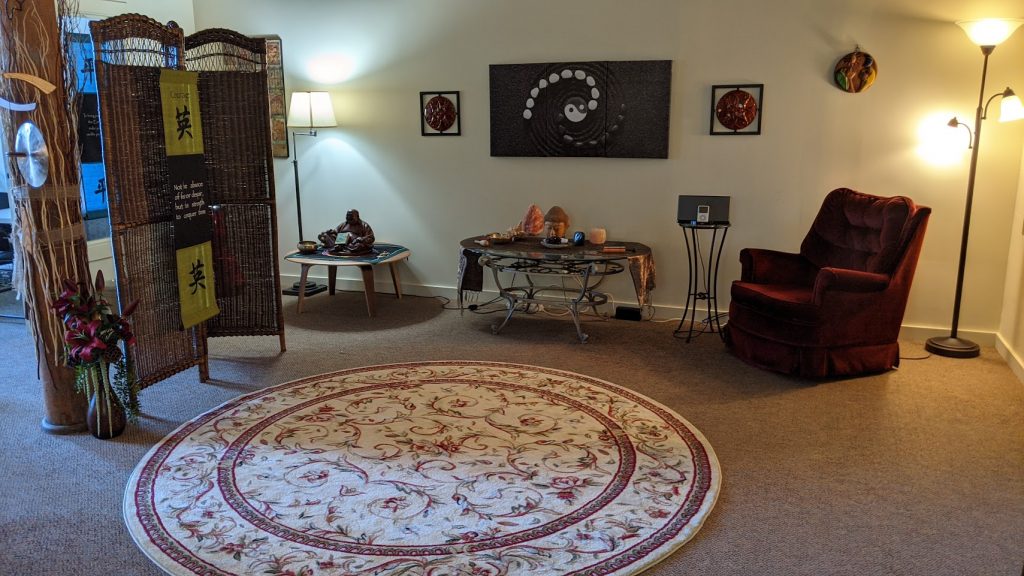 Connect with Audrey on Facebook
Cymbria is the founder and a therapist at Anderson Hills Psychotherapy in Cincinnati, Ohio. Her group practice works to help clients (adults and teens) kick anxiety and depression to the curb. She also helps couples work to build the loving relationships they want.
My offices are all slightly boho with an emphasis on being comfortable. While each space has it's own style they all have art work done by my Mother-in-law, Ann Elder Hess.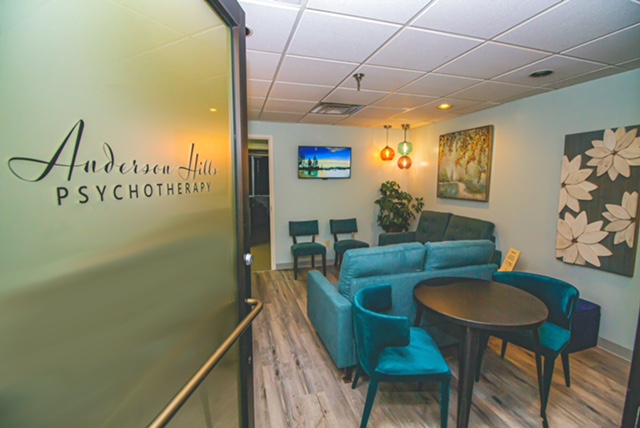 Decor was inspired by each different piece of art. Clients love my offices because the rooms are colourful, cozy and comfortable. I wanted the spaces to be inviting and not boring or traditional style psychotherapy offices.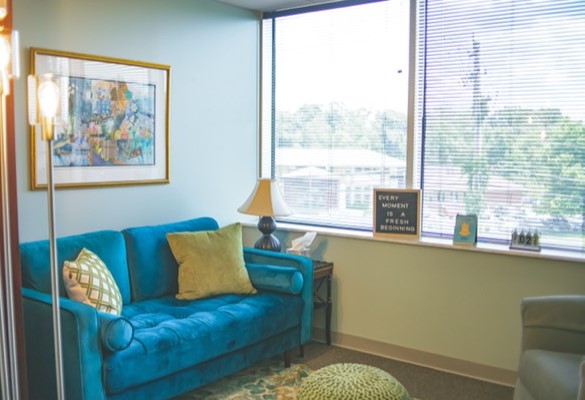 I believe welcoming spaces are conducive to healing and shouldn't be dull. Healing hearts and minds is what my colleagues and I do in these rooms.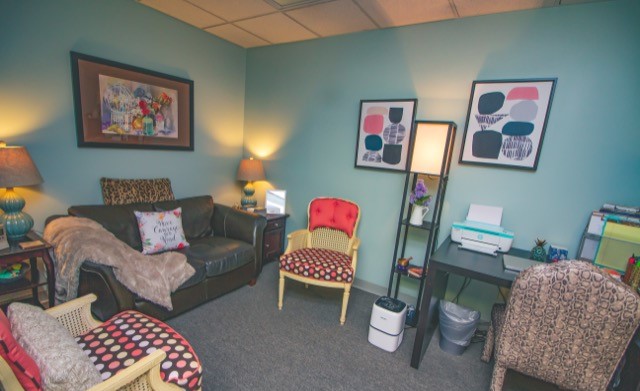 Connect with Cymbria on Instagram
Hayley Fualau is a counsellor who supports and empowers women through periods of change and emotionally difficult times. By encouraging women to seek help and providing them with a safe and nurturing environment, she is hopeful that women will open their hearts and their minds to new possibilities, tapping into their own strengths and resources so that they can move through life's transitions and new beginnings with confidence and hope for a better tomorrow.
My vision was to create a space that felt comfortable and safe for my clients while instilling hope and bringing happiness. I wanted an environment that my clients looked forward to being in. My office has a modern feminine vibe that smells divine! My current oil blend is lavender, lemon grass and peppermint.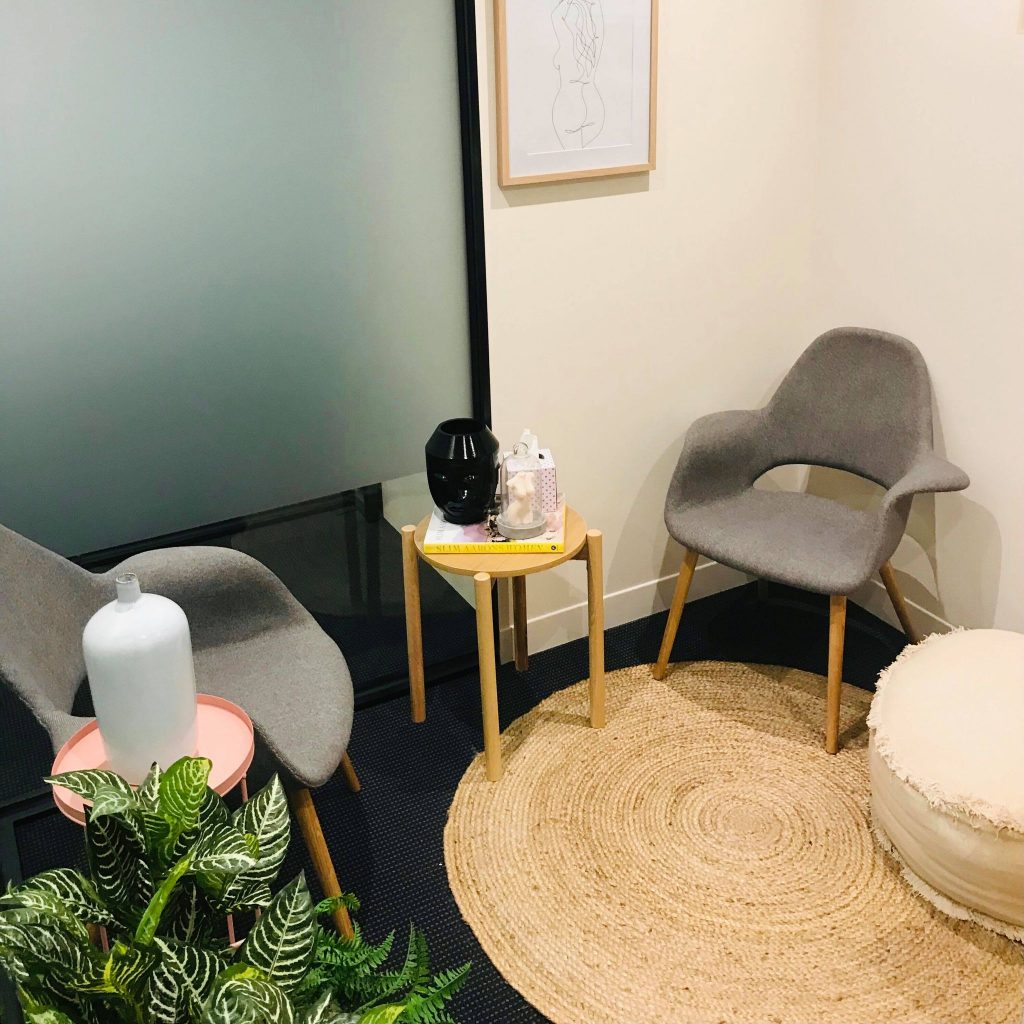 I have little bits from all over the world, that hold special meaning to me which make me smile and look pretty. The green wall and the yellow filing cabinet add a pop of colour and liven up this small space.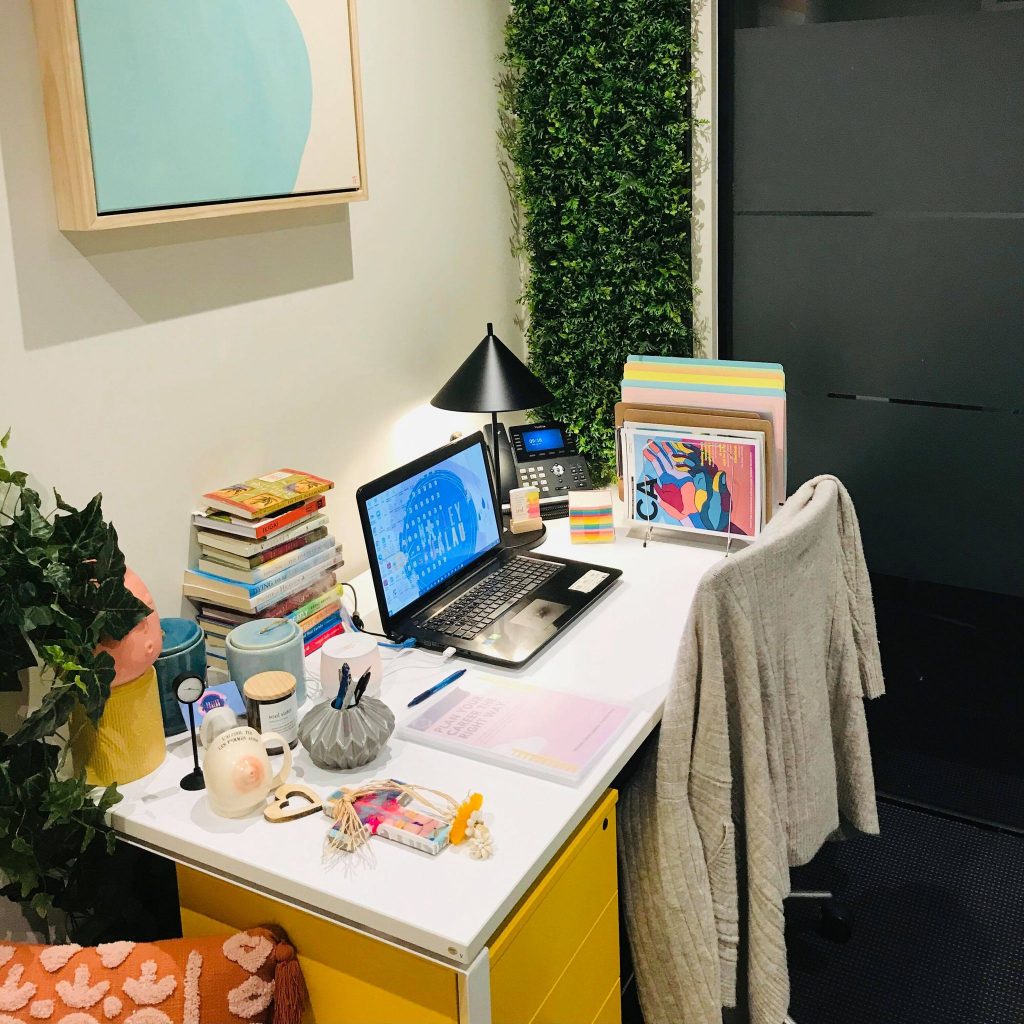 Connect with Hayley on Instagram
Frances is the principle therapist of The Secret Keeper and specialises in treating sexual health, couples, grief and loss, anger, trauma, wildlife workers and volunteers. She is based in Canberra and offers in person, phone and online appointments. In her free time you will find her crocheting, collecting Lego mini-figures, meditating, and spending time walking with her dog Fe.
My space has grown since I moved in Sept 2019. It started out spartan, but the number of plants has grown, considerably. Clients often comment that the colour and texture combination of the plants, wood, and modern white furniture creates a comfortable but nurturing environment. The plants help form my own self-care as well, I love spending time with them.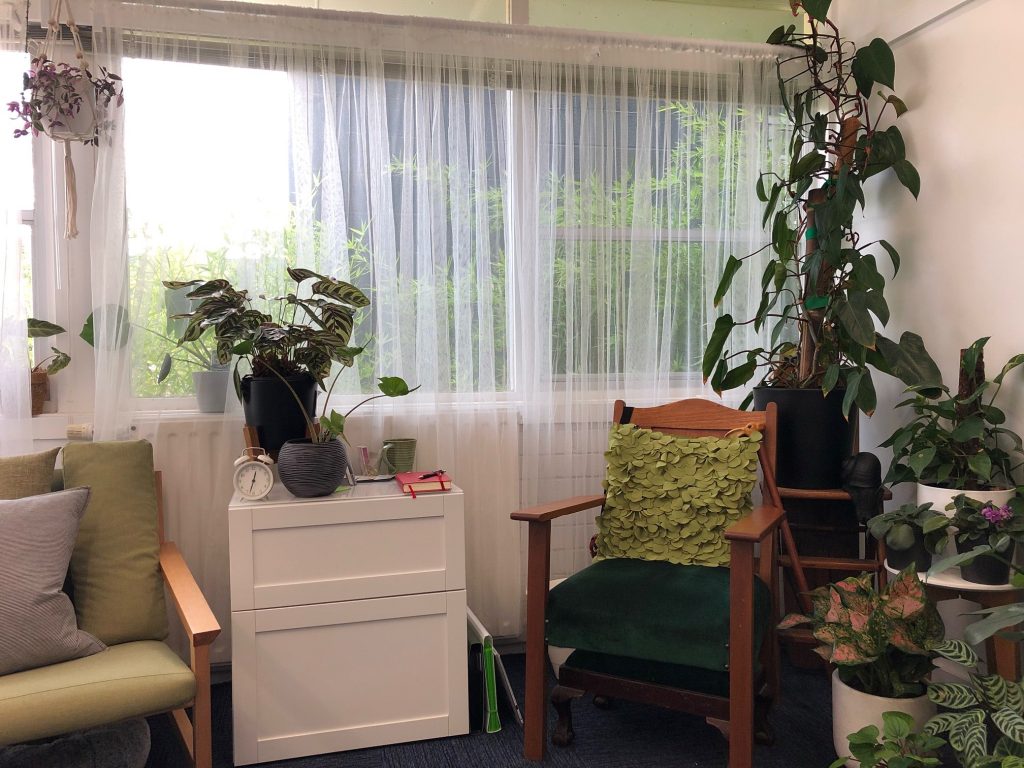 Catherine O'Donnell is the artist responsible for the glorious charcoal doorway that is often used to help clients open up about what happens behind closed doors.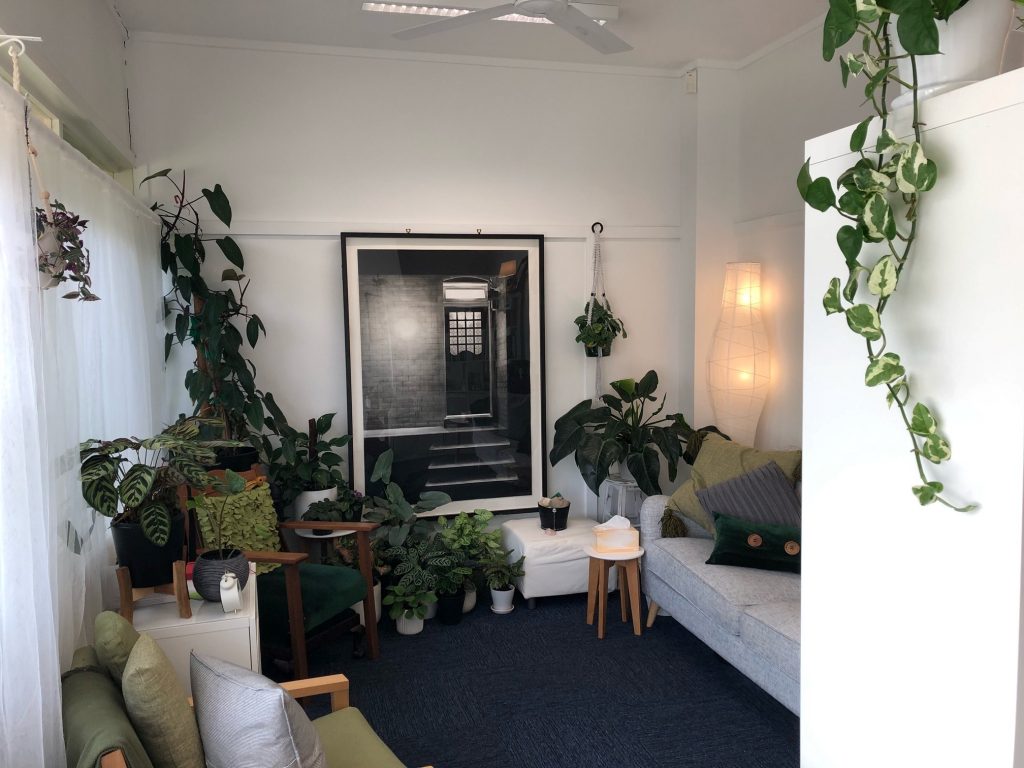 Connect with Frances on Facebook.
Jamie is the founder of Equilibrium Counseling Services, a teen and young adult mental health center, in Southern California. ECS utilizes the creative arts to support self expression and identify building with a special emphasis on neurodivergence. ECS is a warm, vibrant space with the goal of creating a comfortable home feeling for individuals to kick off their shoes and find their voice through emotional healing.
My space is playful, colorful and welcoming; it's a space in which teens feel comfortable taking off their mask and it says, "you can be yourself here". I think they like that it is not stiff and clinical, there is personality, which allows them to show up as their quirky self as well.
I LOVE the Mandala tapestry behind my couch, it is so relaxing to me and by far the item most people compliment as they walk into the room.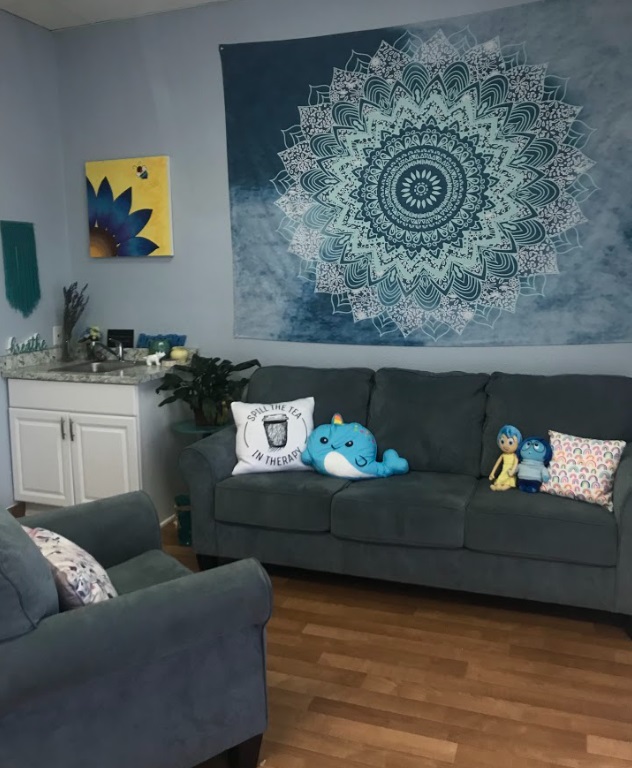 I use colour in connection to emotion often, so being able to look around the room and identify safe feelings with clients is helpful. I also have quite a few sensory items within reach for clients to freely access to support self regulation.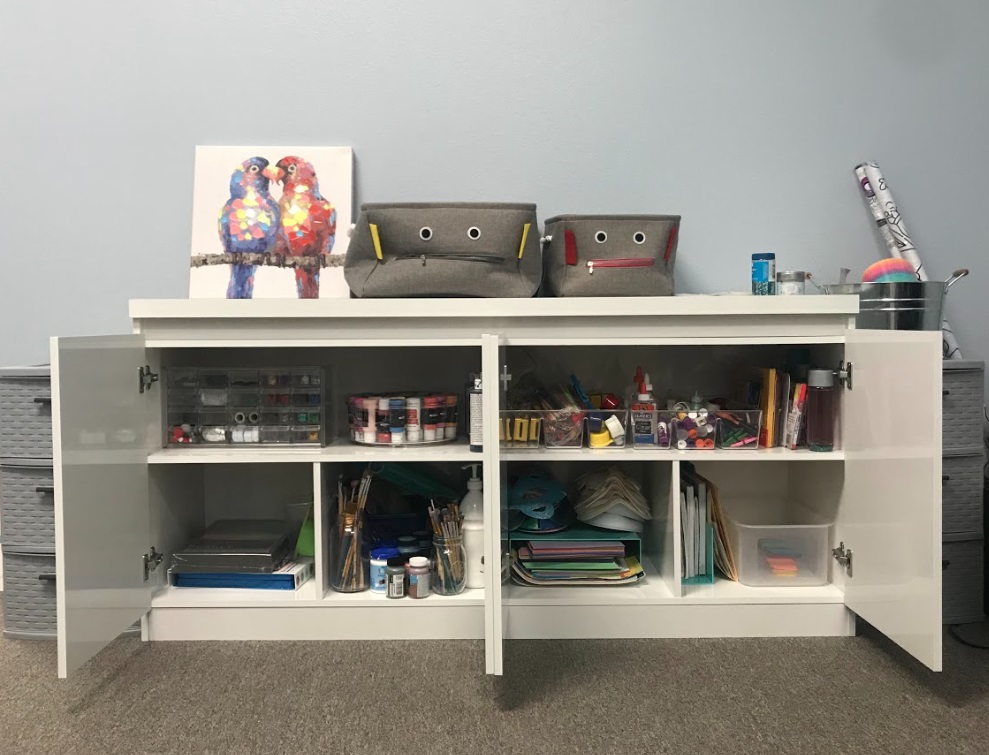 Connect with Jamie on Instagram
Polyvagal trained, trauma informed compassionate counsellor, Jane Macnaught, works with men and women on the Northern Beaches of Sydney who are feeling overwhelmed, anxious, and struggling. Specialist in anxiety, grief and supporting recovery of survivors of childhood trauma, Jane also teaches soothing Yoga and runs a trauma aware practitioner support group. Passionate about helping the local community to become trauma aware, she offers training, referrals, and resources.
Tranquillo Place is a spacious counselling room with really comfy chairs, cushions, rugs, weighted blankets, aromatherapy, soft lighting – everything the client might need to feel calm and safe.
There is also plenty of room for groups, private yoga sessions and as you see it is filled with beautiful art and findings from the local environment.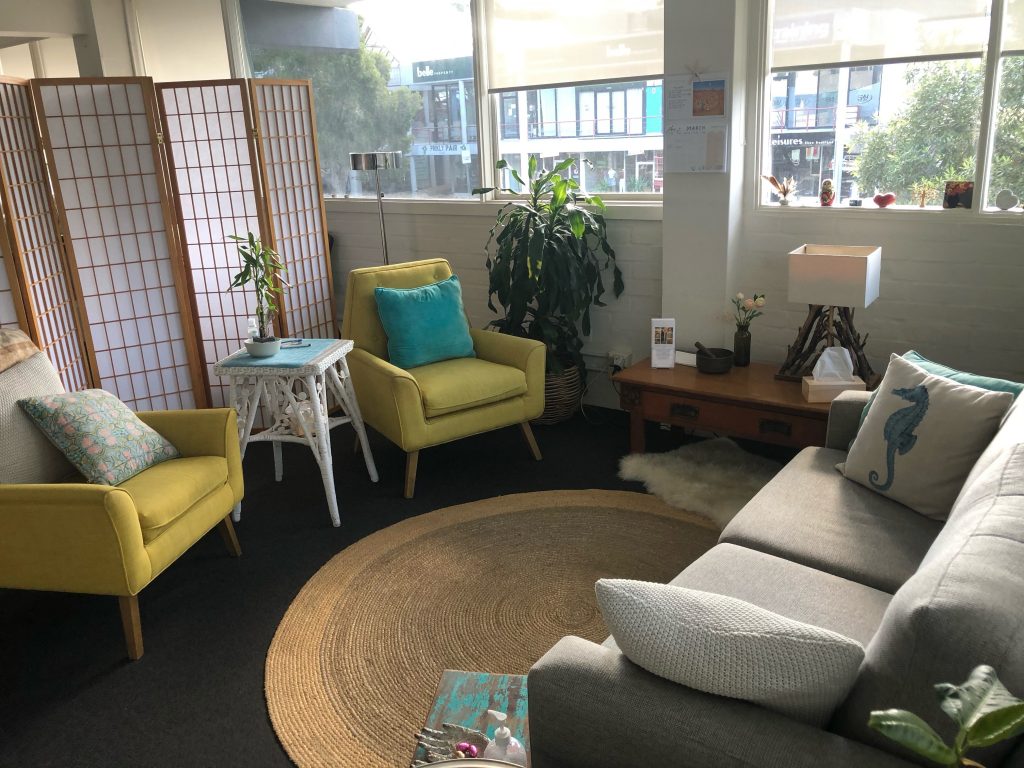 The featured Tranquillo Stones are painted by an indigenous artist and if the client notices them, they will be offered to take one home as a keepsake.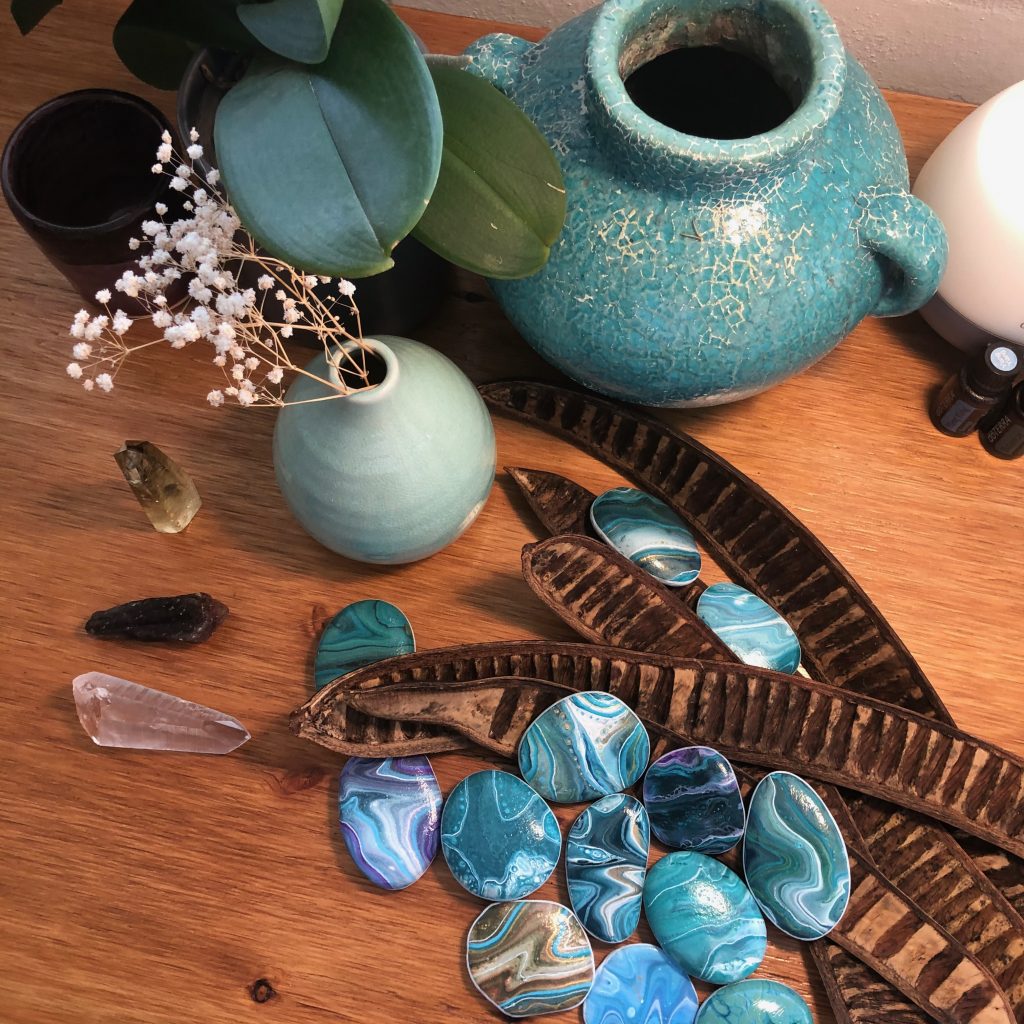 Connect with Jane on Instagram
Jo is a Relational Psychotherapist based in Lismore, Northern NSW. She is also a Counsellor, Circle Gatherer, Group Work Facilitator and Intuitive who blends various modalities in her work with individuals, couples, families and children (10+).
My space is warm and inviting with a relaxed 'feet up on the couch' type vibe. I like clients to feel welcome and there is an assortment of items that I have been collecting for over 25 years that have made their way into the therapy space. Having a firm foundation in Gestalt Therapy , I like to have a large variety of items on hand for clients to work with. Anything from pebbles to statues to artwork fill the room. Having a strong belief in ritual, ceremony and the creation of sacred space means that I cleanse and clear the energy of the space regularly. I believe it is so important that clients feel safe and comfortable throughout their therapeutic process.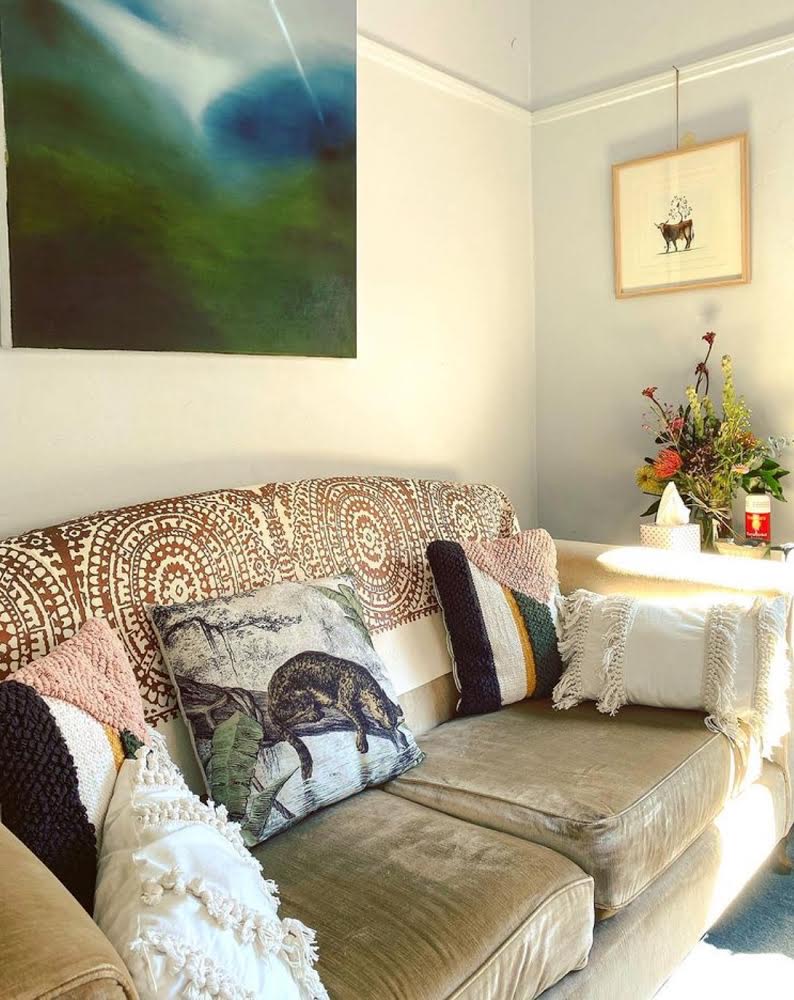 Everything in my room is seen as a sacred object that contributes to the energy of the room and the overall style of how I work. Two objects in particular, the rattle and singing bowl that I use to create the therapeutic container at the start of the day and also to close and clear the space at the end of the day, are essential items. I also have many cards, and pieces of handmade artwork that have been gifted over the course of my practice from mentors, colleagues and clients.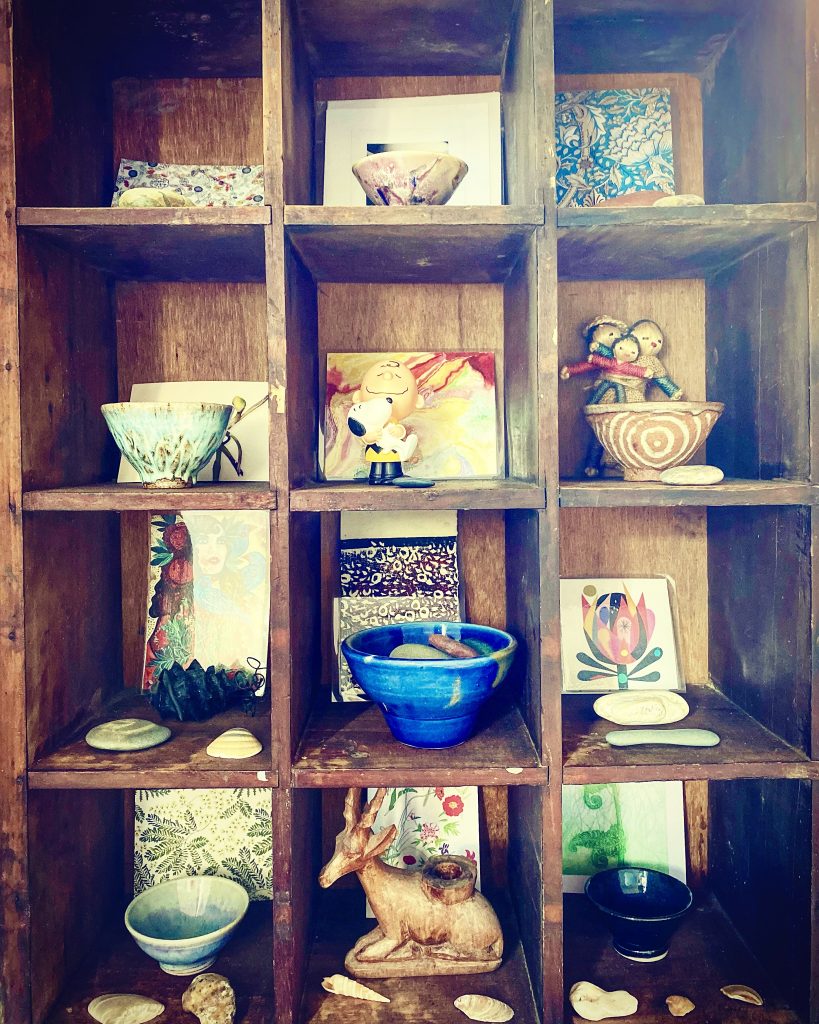 Clients are often surprised and delighted at the openness of the space and the invitation to take off their shoes, put their feet up and get comfy. Its high ceilings and tall, dual aspect windows allow for the support of the outside world to come in and be part of a clients process. I would have to say that the first thing every client comments on is the smell. Smells are so evocative and I combine a mix of essential oils, incense and Palo Santo to keep the space clear and fresh. Clients are also intrigued by the eclectic mix of objects and art in the room.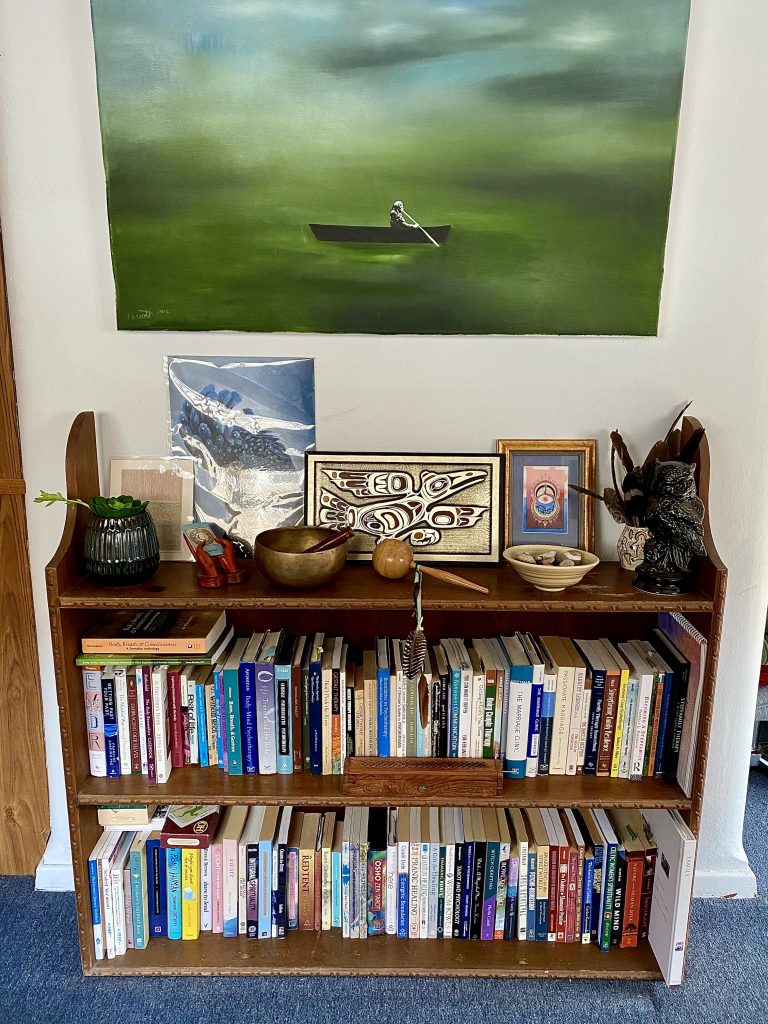 As mentioned previously, having a solid grounding as a Gestalt trained therapist, it is so important to the process to have many items and objects on hand. These are used in various experiments, explorations and also for clients to have as support when needed, like a pebble to take home as a reminder of strength and courage or a pile of cushions to support the body, mind and spirit by creating a comfy place to begin unfolding a clients story.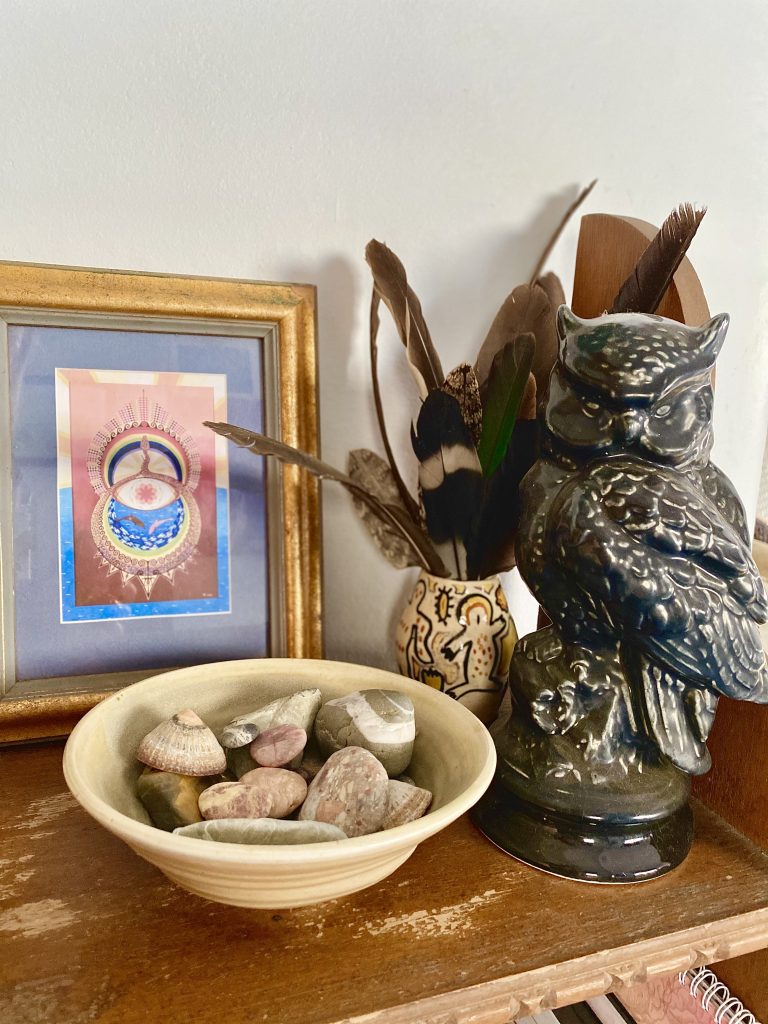 Kate Landete is a qualified counsellor and well-being coach based on the Central Coast of NSW. She works primarily with women navigating their journeys into and throughout motherhood and the complex physical, mental, emotional and social changes that women often experience during this stage of life as well as anxiety, depression and general health and wellbeing.
My space is unique and unlike what many people believe a counselling space is going to be (no sterile, four white walls, medical reception feeling in here!) and located within a gym! Tucked away in a private room it is relaxed, cozy, comfortable, suits the coastal vibes of the Central Coast and match my laidback approach to counselling and wellbeing. Essential oils, music, candles, flowers and cups of tea add to the homey and supportive vibe I have created. Clients love how relaxed they feel walking into my space and describe it as having a peaceful energy and a place of calm amidst the chaos of the outside world. The space is also full of books, crystals, affirmation cards and art supplies that can be used during sessions and the gym and gym equipment can be utilised too!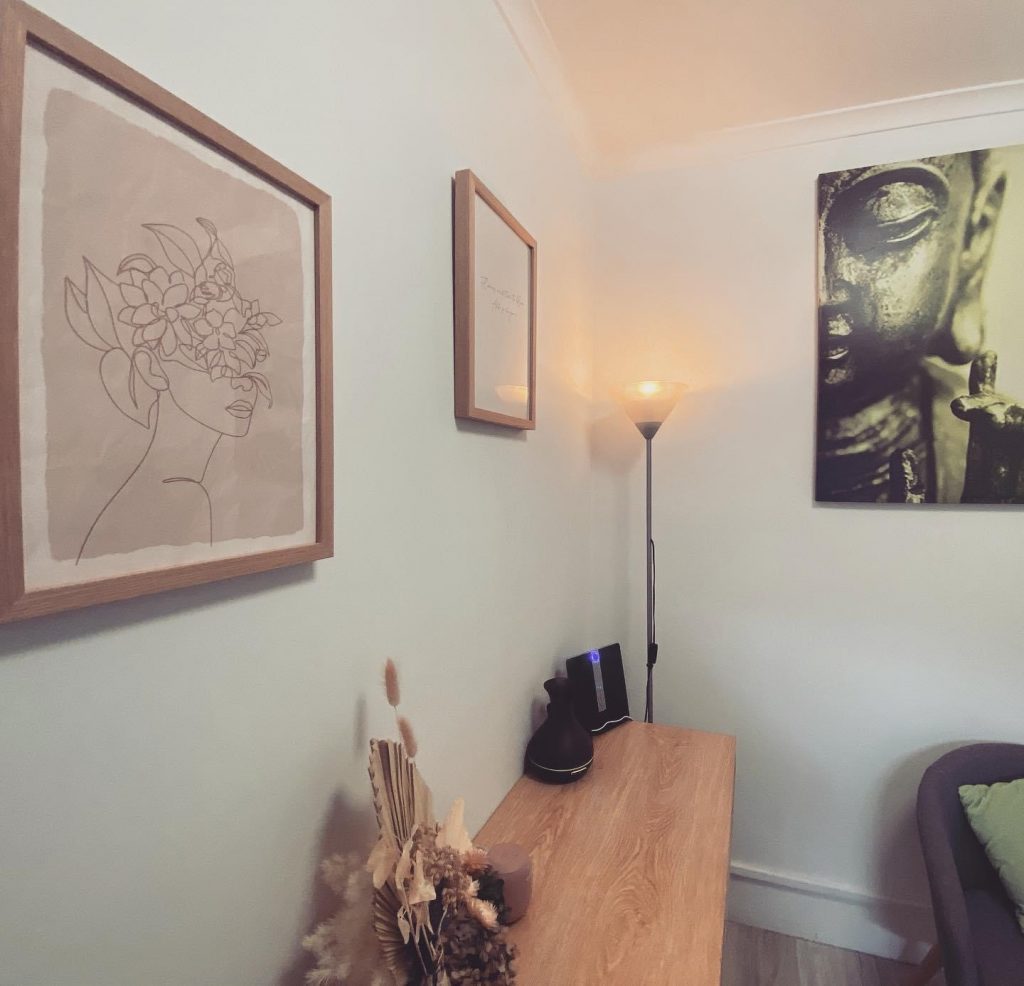 One of the most special/ favorite pieces in my space is a handmade macrame wall decoration created by a beautiful friend and delivered to my house as a surprise during COVID lockdown with a note that read: "Made with love from one mama to another for a space to support other mamas. May it bring peace and smiles".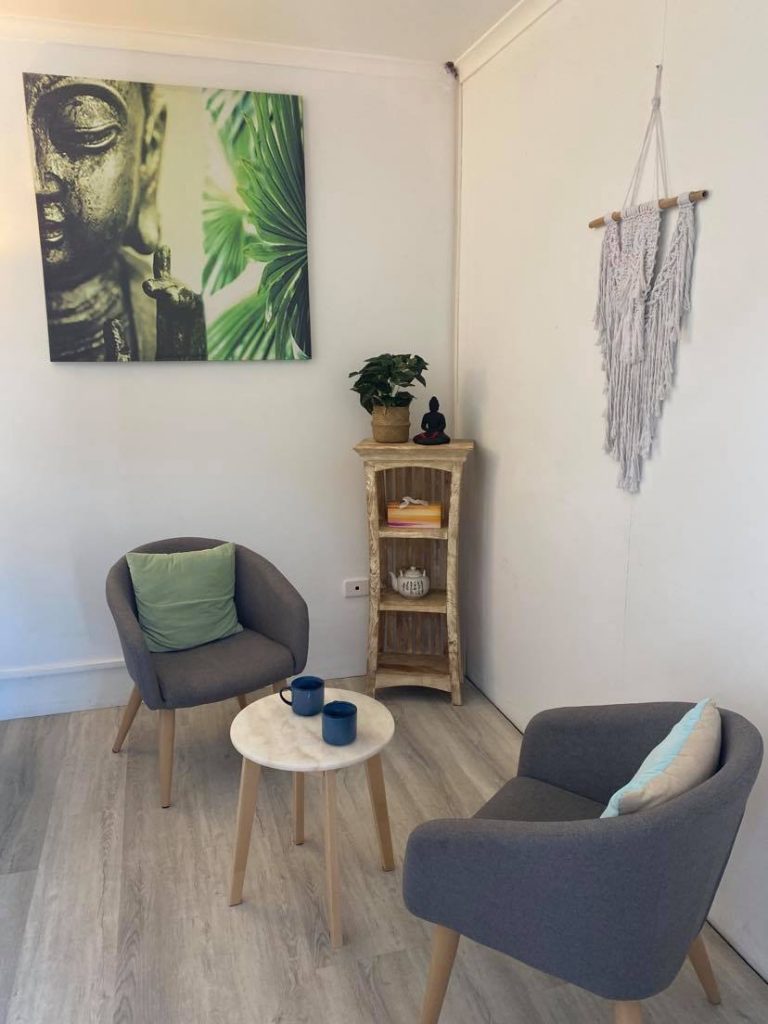 Connect with Kate on Instagram
Nerine is a counsellor, psychotherapist and yoga-therapy practitioner who thinks holistically about wellbeing, mental health and trauma. She specialises in trauma, and provides an honest space for deep conversations and genuine connections that transform lives. Nerine knows how important safe, secure and reliable relationships are when it comes to healing. You can trust her to provide an honest, consistent space for clients to explore their feelings, achieve their goals and enhance their life.
I am all about safety and connection and I am clinically trained and an intuitively guided therapist so I want my clients to feel safe and comfortable from the moment they enter my space. I have set out to create an honest space where real conversations happen, so I have cosy, comfortable furnishings and low lighting to help clients feel at ease.
This is no stark counselling room. I have carefully curated beautiful, worldly pieces that hold memories, stories and wisdom for the journey back to self. This space is a little ode to wandering without inhibitions, it's a space where people can feel safe and inspired to explore who they are, where they've been and where they want to go.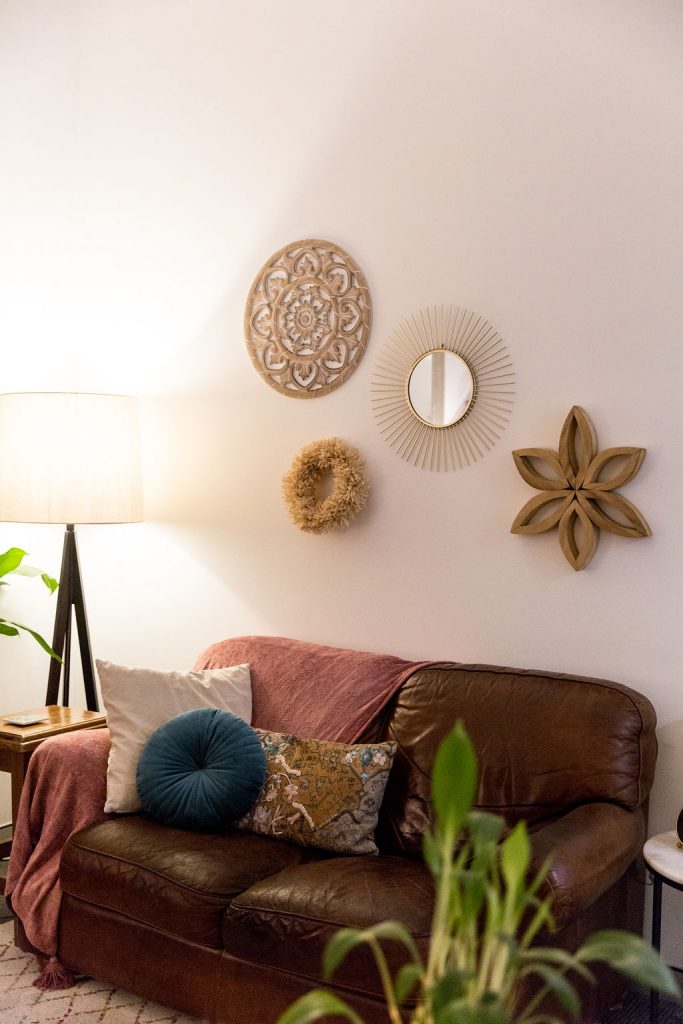 My particular favourite piece in the room is the Gold Peacock. Peacocks are associated with the Hindu goddess Lakshmi – a deity representing benevolence, patience, kindness, compassion and good luck. And a peacock feather is said to absorb negative energies and protect the wearer from any bad happenings.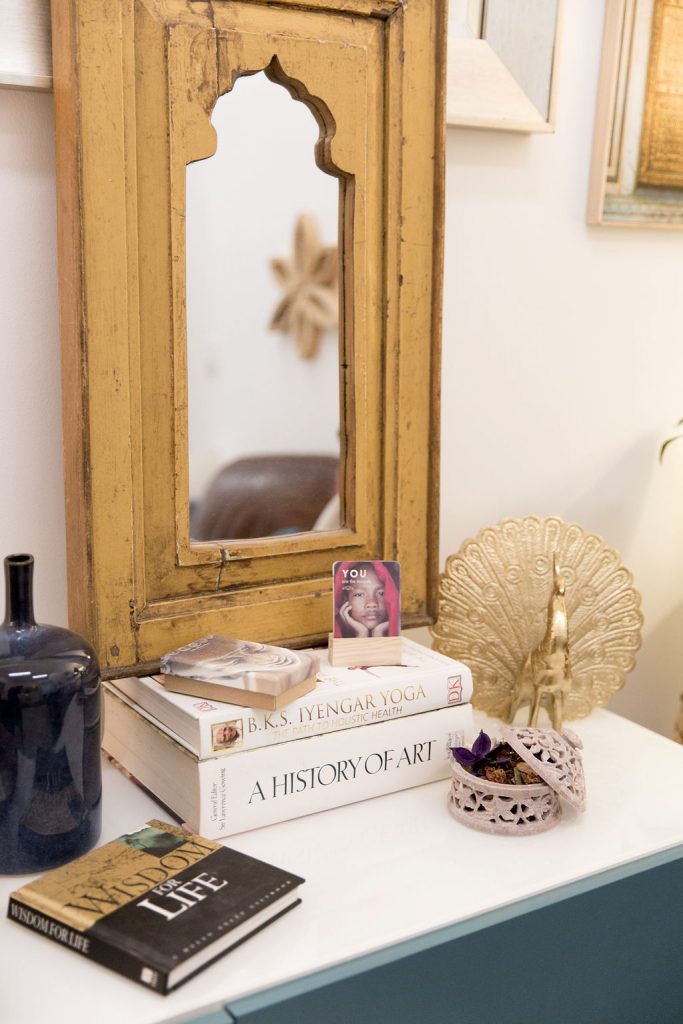 Most new people to the space comment on how beautiful it is, but for me it's really about the creation of something that perhaps they can't name or know explicitly but feel implicitly. I use the wide variety of interesting objects as points of discussion and to help ground and orient clients to the present. I love using my singing bowl when I do relaxations for clients, and I have a weighted blanket and a soft teddy used for grounding and doing inner child work. I also have tea and water for clients to nourish themselves if needed.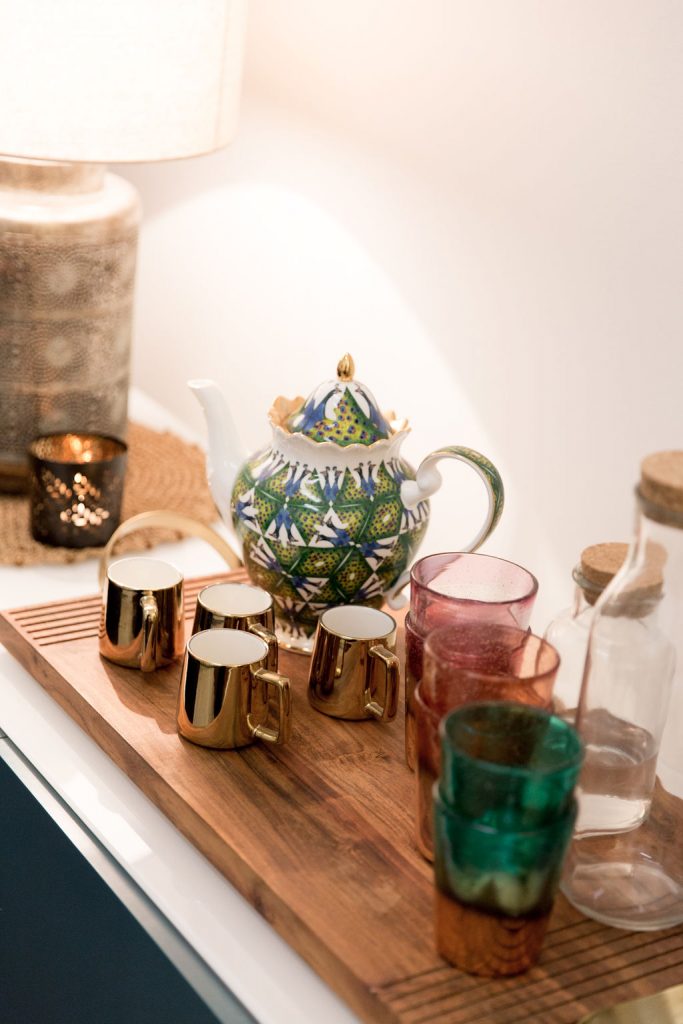 Connect with Nerine on Instagram
Sonya sees individuals and couples and is an NDIS Registered Provider as well. Her slogan is "helping hurting people" because she believes she can connect with people's hurt and pain through empathy, compassion and helpful strategies.
My office is based in Tuggerah on the Central Coast NSW. When clients walk into my room, they often say how lovely the big window is and the view of the trees. I purposefully wanted this room for the relaxing feel it has and of course I want my clients to relax and feel safe and calm; this is reflected in my colour palette of blues and greens.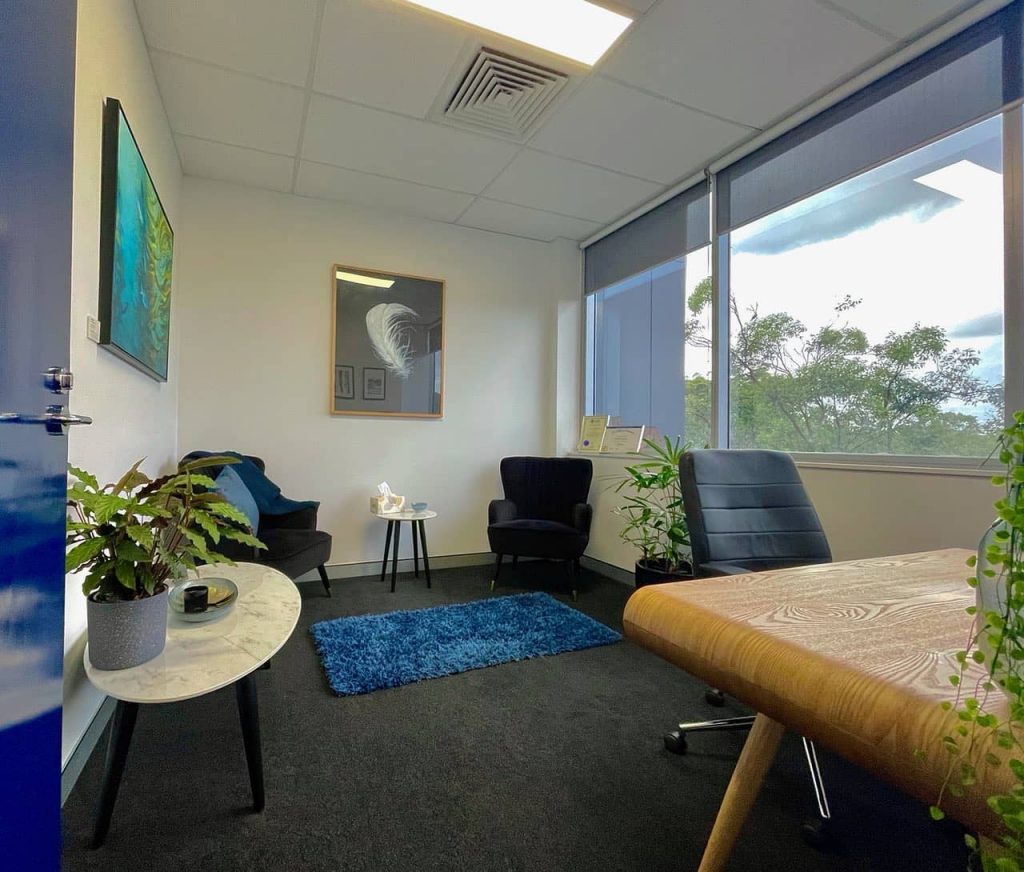 You can take a virtual tour of my office here!
Connect with Sonya on Instagram
Tracey is a psychodynamic counsellor and psychotherapist. Empathic is the name of her private practice, where she sees adult and adolescent women for individual sessions in North Canberra in the ACT. From time to time she also offers mindfulness and contentment group therapy courses both for teen girls and adult women. Tracey is also an Evidence Based EFT Tapping practitioner.
It is wonderful to be back in my own space again: my new purpose-built psychotherapy room in inner north Canberra where I see individual adolescent and adult women. The entrance to my therapy room is through a beautiful garden.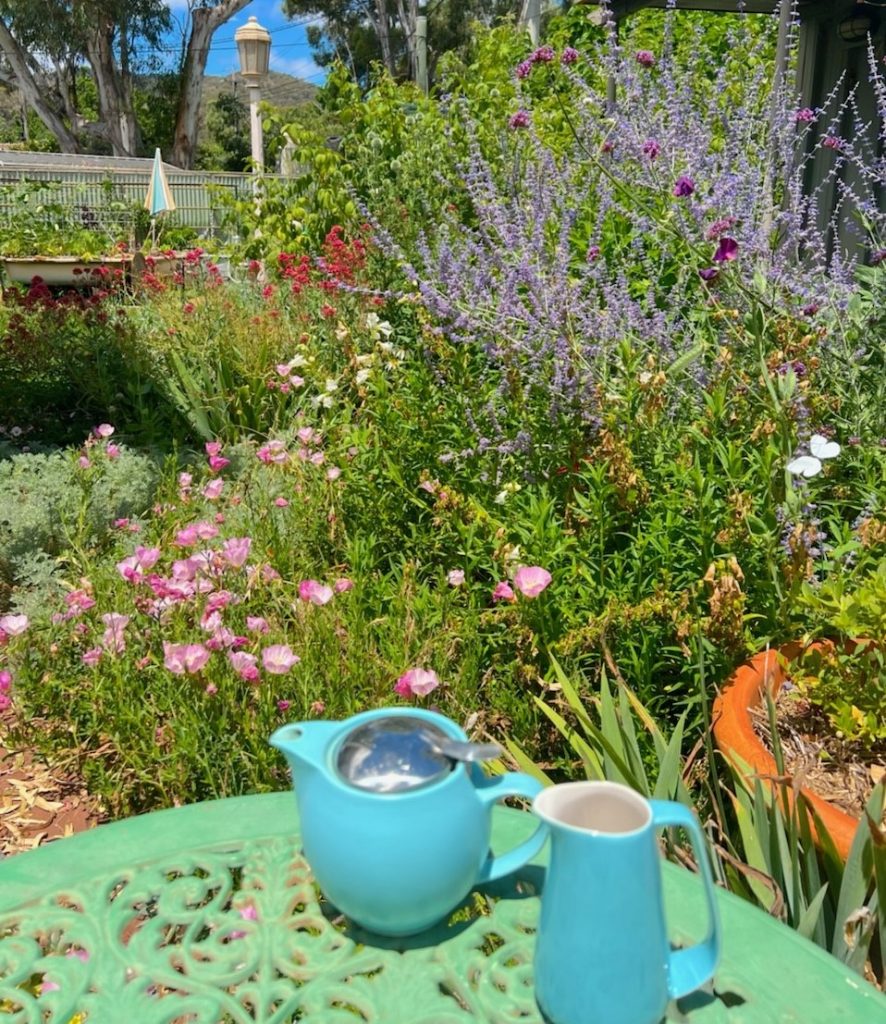 As I love to run occasional therapy, mindfulness and contentment groups I really wanted to make a space big enough for groups of 8 clients as well as a contained, nurturing space for just two.
I view the therapy room as a container – a physical reflection of the psychological containment of the therapeutic relationship. While lit with a huge window, the deep blue-green of the matte walls is calming and enclosing. The choice of seating, varied fabric textures, thick carpets, and double glazed quietness are designed to soothe the soul of both client and therapist.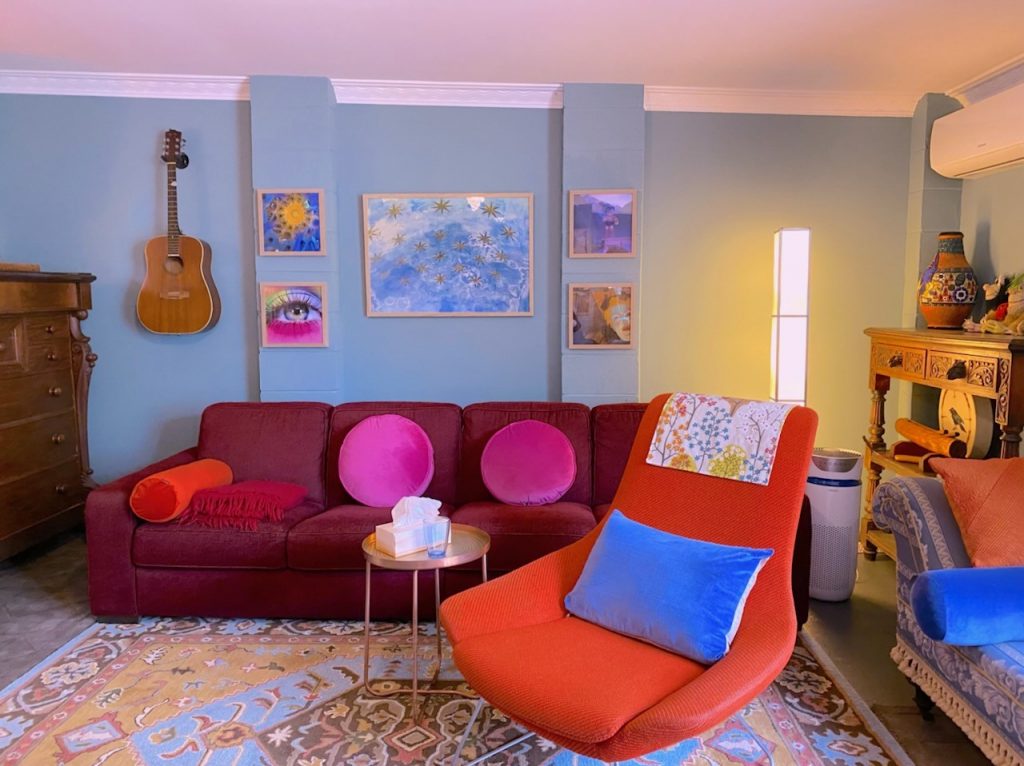 The room is also a reflection of me and my values and personal treasures: photos from our two years travelling overseas, Kewpie collection, extensive library, and of course Astro Boy and Wonder Woman.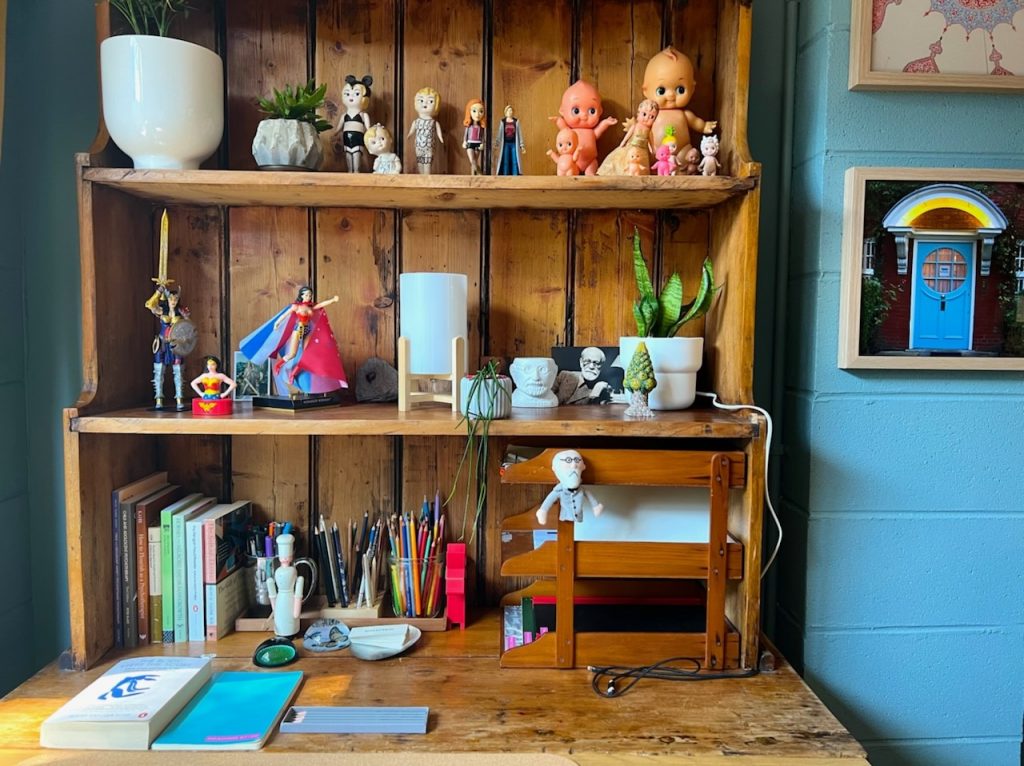 Thank you so much Jodie for the opportunity to contribute: I pored over your earlier posts on therapy rooms while putting mine together! My first therapy room was in St Peters in an old terrace in 1998. It was so cosy it was like disappearing into the 1890s. It has been very self-nurturing to create another room since moving to Canberra and opening my practice here…I think of it as my girl cave!
Connect with Tracey on Instagram
Toni Jackson is a Psychotherapist specialising in working with all genders and sexulaities, around the issues of self-worth, anxiety, trauma and body image. She is based in Fremantle, Western Australia and also sees online clients from all over the country.
I would describe my therapy room as creative, colourful and cosy. My intention is for all my clients to feel relaxed and comfortable in this space. Bare-footed couch slouching, cushion rearranging and swearing are all welcomed within this room.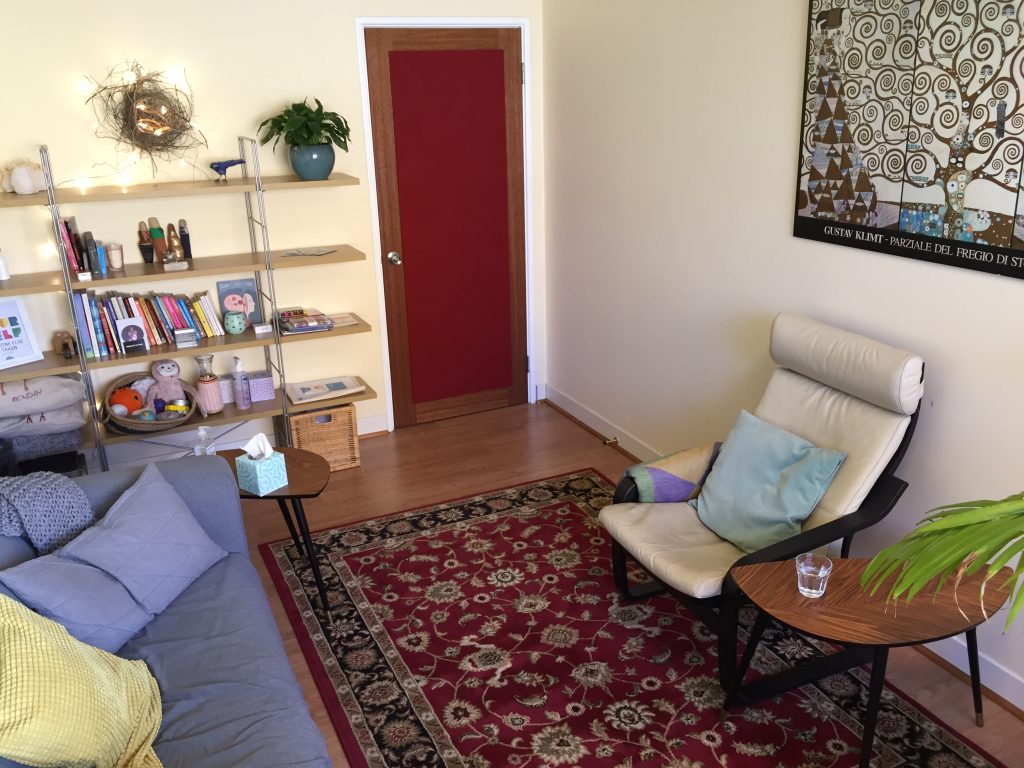 One of my favourite items is the bird's nest hanging on the wall. I found it lying on the ground during an early morning walk, brought it into work and added fairy lights. The nest and the tall potted palm are the most commented on features in the room. My bookshelf also attracts a lot of attention.
As a body-centred psychotherapist, I keep a lot of sensory-based items in the room. There is an exercise ball, blankets, putty, cushions, oil pastels and essential oils. Sometimes a client and I will rearrange the room to fit their needs – maybe to make more space, or to create a safe nook. Many people have told me they love the feeling the room has for them.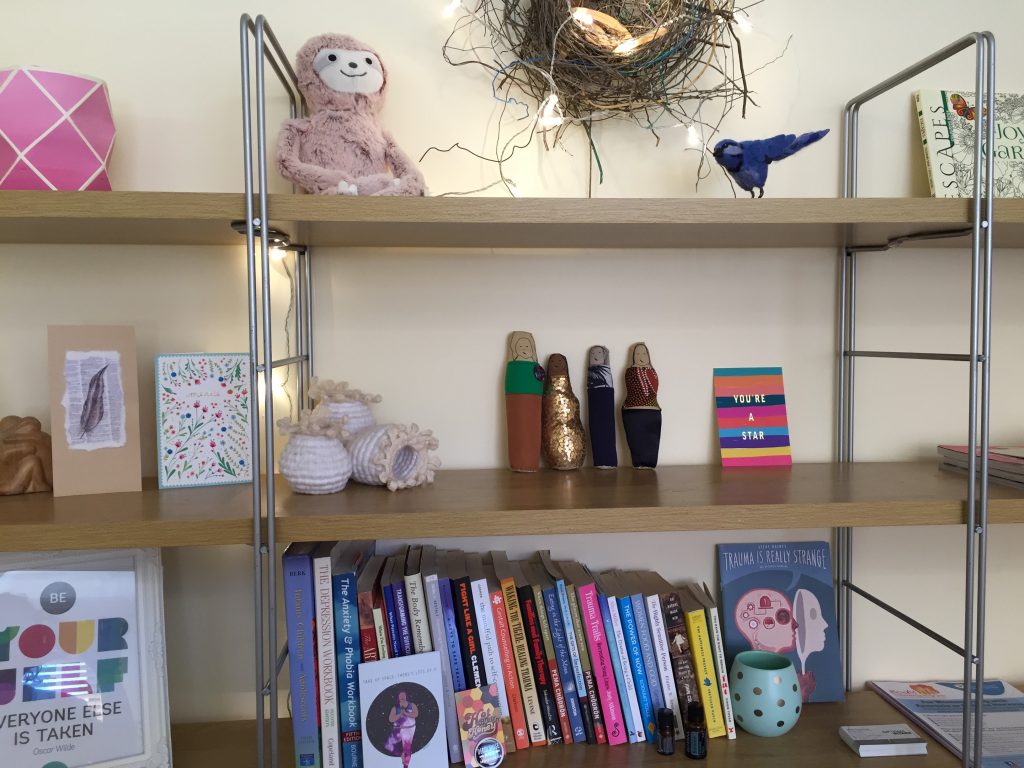 Connect with Toni on Instagram
We hope you enjoyed these online therapy spaces. This is part of my Therapy Spaces Series.
Would you like to build a thriving private counselling or psychotherapy practice from the inside out? Come and join your counselling and psychotherapy colleagues and I in my free Facebook group, Opening the Door on Private Practice.