Focus On Your Website: 5 Steps To Help Your Private Practice Thrive!
If you are just starting out in a private counselling practice or perhaps growing your practice, you might be wondering about where to start and where to focus your time and energy.
With the rise of therapist influencers, and the pressure of having to manage social media accounts, you might be tempted to focus much of your time towards building those first. However, one of the pitfalls with social media platforms is that they don't belong to you.
A recent post by Karen Bieman in my FB group for counsellors and psychotherapists, Opening the Door On Private Practice, highlighted how little control we have over our socials! Karen logged on one morning and her Instagram account came with the following notification: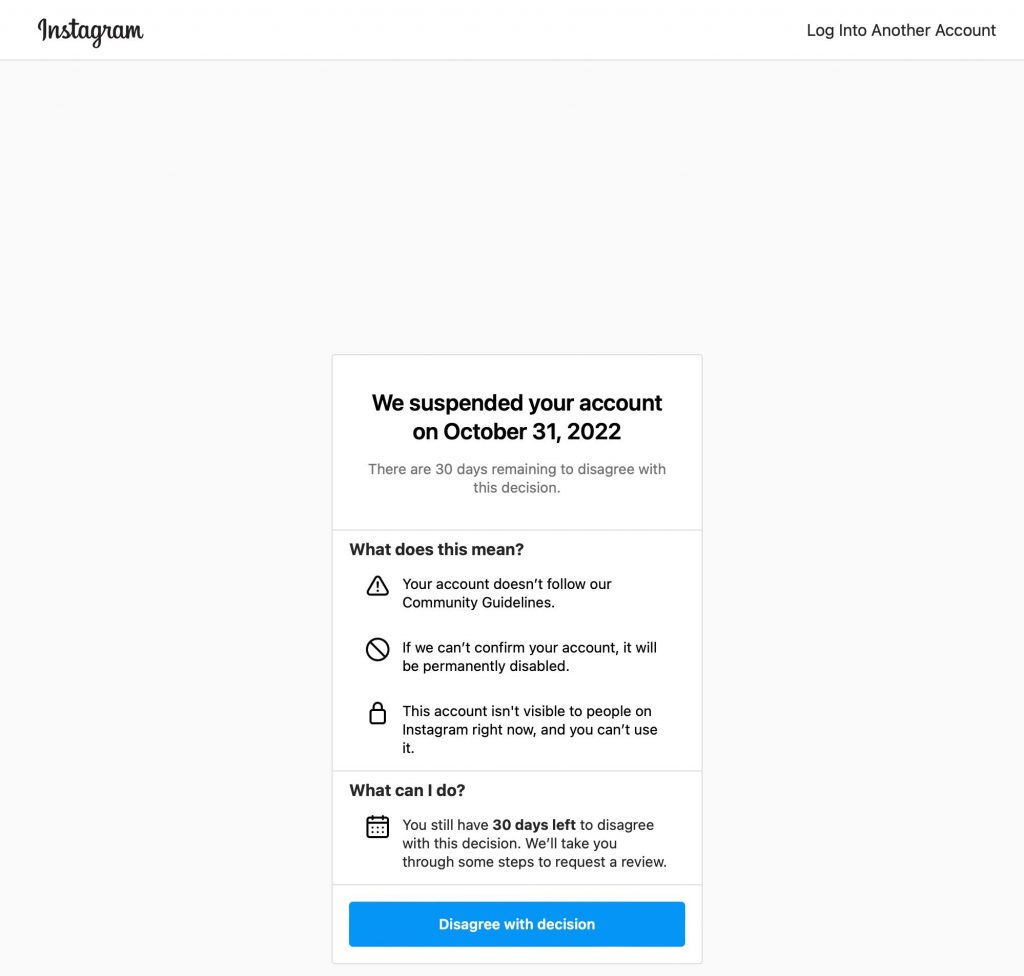 On this occasion, it was a widespread glitch and her account was reinstated a few hours later. However, over the past few years, other therapists have been unable to recover their accounts and they have had to start from scratch. Other social media platform concerns include Elon Musk recently announcing that he might start charging US$20 a month for verified accounts on Twitter and Facebook algorithms are forever changing, leaving small business owners wondering if it isn't even worth it! If your social media page is the primary home for your business, this leaves your business in a highly vulnerable position.
My colleague Melvin raised the same issue a few weeks ago in his group,
"I spoke recently to a friend at Google, and they were recommending really focusing on building an owned audience (newsletter, the website, and to a degree, the podcast) vs. rented ones (FB groups, most social platforms, etc.) b/c all of us are then at the mercy of these social platforms."
To build a successful business, your website is still the most valuable asset for your business.
Focus On Your Website: 5 Steps To Help Your Private Practice Thrive!
Step 1. Define Your Ideal Client
Discover who you want to work with, what concerns you are passionate about working with and how you are gong to work with them. Aim your website copy towards creating a connection with your ideal client.
Step. 2: Create a super duper freebie (lead magnet) for your ideal client
Create a freebie giveaway aimed at your ideal client and place it somewhere in view on your website. Link the freebie to your welcome email. The purpose of this should ultimately be to connect with potential clients and to provide them with a good quality resource. Remember, clients come to our websites because they are in emotional pain so if you are building private practice clients, I would personally refrain from having an email list pop up until your practice is full or until your main focus is selling courses or products.
Step 3: Create content for your ideal client
This is how your potential clients are going to find and connect with you. Almost every client that reaches out for therapy with me, mentions one of my blogs. The content on your website could be a blog, vlog or podcast. If you are creating videos or a podcast, embed them in the show notes (which is essentially a blog). Be sure to use your ideal client key words throughout. Your blog should always be hosted on your practice website as this will raise your SEO (Search Engine Optimisation). You might also find this blog helpful: 13 ways that blogging can help you to thrive in, transform & grow your private practice
Step. 4 Call to action
Place a call to action at the bottom of each blog with a link to your contact / booking page or super duper freebie – this will depend where you are in your business – eg. my practice is full and I am currently creating online courses for my Trauma Warriors™ site so I place my eBook freebie to build my email list. I only did this once my practice was full. If I wasn't full, I would put a call to action for the reader to reach out for therapy.
Step. 5: Share to your email list and on socials
Share your blog content to your email list and on social media. You can also share in #MarketingMonday threads in therapist FB groups. If you are a member in my Blog Your Way to Private Practice Facebook group, you can share your blogs any time. You can repurpose your blogs for weeks, months and even years to come by making infographics and IG slides, reels or stories – just remember to always link it back to your website.
Need Blogging Support – Check Out My Blogging Prompts
If you need support with building a blog, you can purchase my 5* rated 52 Blogging Prompts from my ETSY store and come and join myself and your colleagues in the Blog Your Way to Private Practice Success Private Facebook Group.