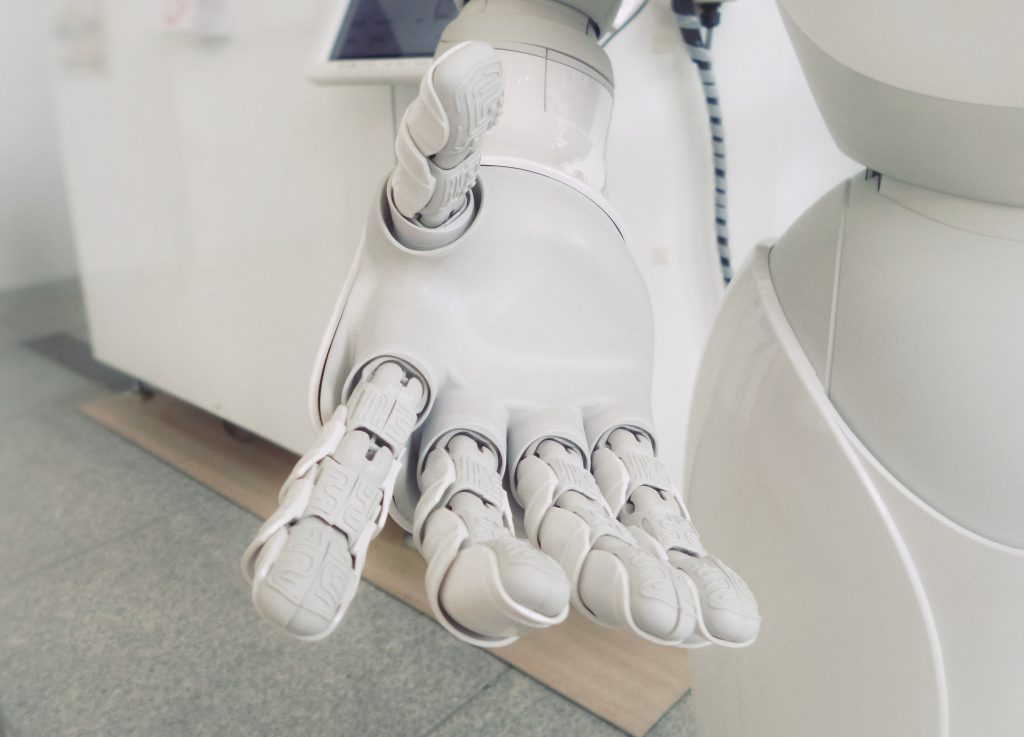 Are You Using AI in Your Therapy Business Yet?
As a fellow therapist, I understand the importance of staying up-to-date with the latest tools and techniques to support and grow our therapy businesses. That's why I'm excited to share with you, my innovative workshop: Chat AI: How to Work Ethically and Congruently with Artificial Intelligence to Support and Grow Your Therapy Business.
"AI in therapy? Really?"
Now, I know what you might be thinking: "AI in therapy? Really?" Trust me, I get it. The thought of incorporating artificial intelligence into our practice can be met with fear, skepticism, apprehension, caution and even some "anti-AI" thoughts and feelings. However, let me assure you that this online course is designed to address your concerns and show you how AI can be harnessed ethically and congruently to enhance your work as a therapist.
So, what exactly is AI?
In a nutshell, it's the simulation of human intelligence in machines that are programmed to learn and perform tasks intelligently. But don't worry, we won't be delving into complex technical jargon or Terminator-like scenarios. Instead, we'll focus on practical ways you can leverage AI to benefit both your clients and your therapy business.
Chat AI for Therapists: How to Work Ethically and Congruently with Artificial Intelligence to Support and Grow Your Therapy Business
During this 2 1/2 hour online course, we'll explore a range of topics that will demystify AI and its applications in your therapy business. Here's a glimpse of what we'll cover:
How to use AI ethically and congruently in your therapy business
How AI can help your counselling practice & save you hours of time
How to use AI to create resources & products for your therapy business
How to use AI for note taking, session planning and reviews
How to use AI to market your business
Live examples showing you how to use AI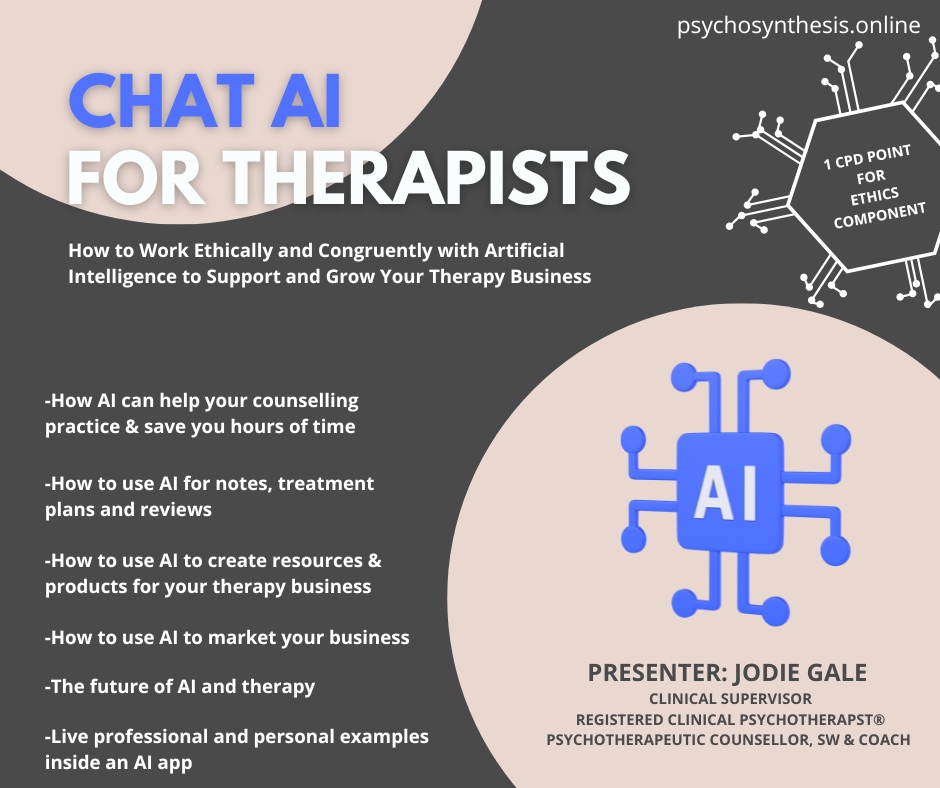 By the end of this online course, you'll have a clear understanding of how to incorporate AI into your therapy business in a way that aligns with your ethical principles and enhances your client & business outcomes.
Stay abreast of the latest developments within the AI field that are relevant to your practice. Let's embrace the possibilities that AI offers and explore how it can help us better serve our clients while staying true to our ethical and authentic approach.
If you have any questions or would like more information, please don't hesitate to reach out. I'm here to support you on this exciting journey of integrating AI into your therapy practice.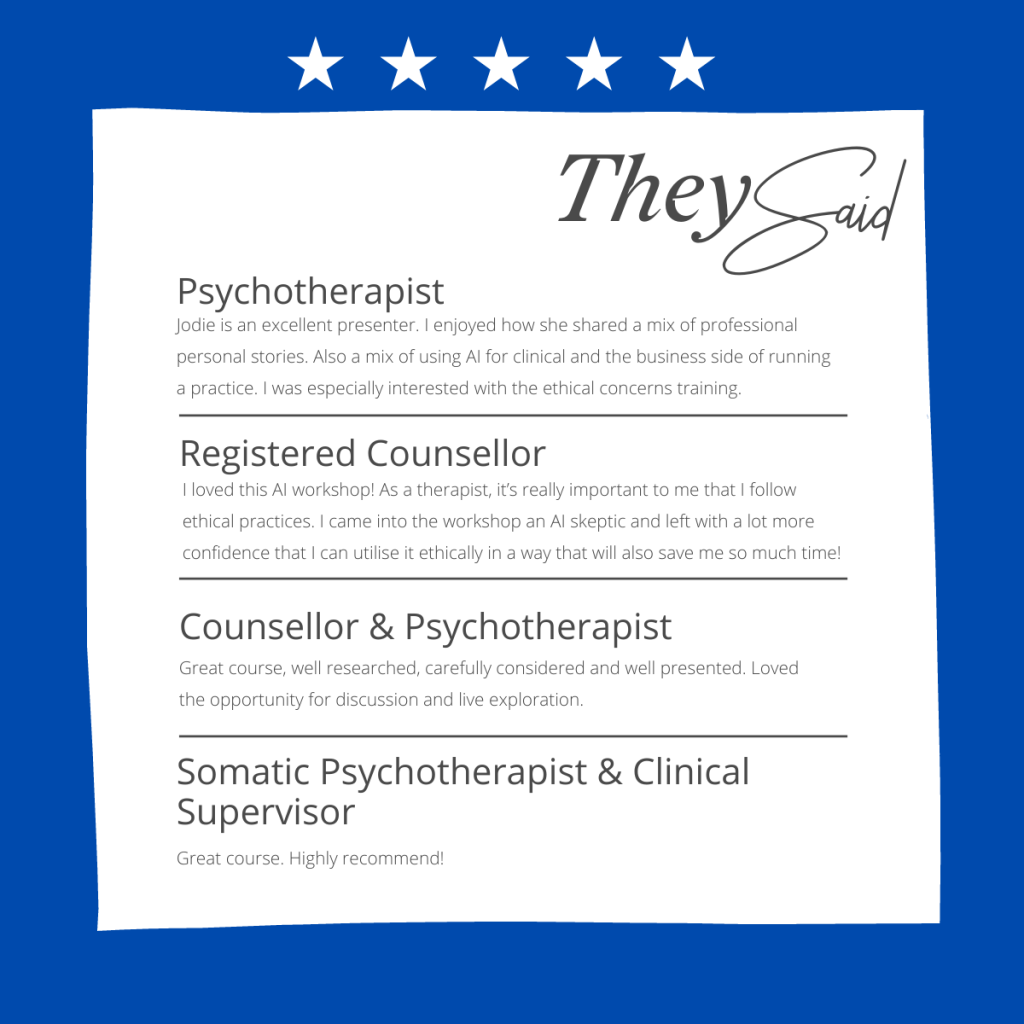 p.s AI helped me with a draft of this course page. I'll be showing you how to do that in the workshop!
Chat AI for Therapists Terms & Conditions
By enrolling in the Chat AI for Therapist Course, you agree to the following terms and conditions. This course is a digital product, and as such, no refunds will be issued once the course is purchased. Your access to course materials is for personal use only, and sharing or distributing course content without explicit permission is prohibited. Any unauthorised use or reproduction of course materials may result in legal action. The Psychosynthesis Centre is committed to providing a valuable learning experience, and your understanding of these terms ensures a smooth and mutually beneficial course journey.