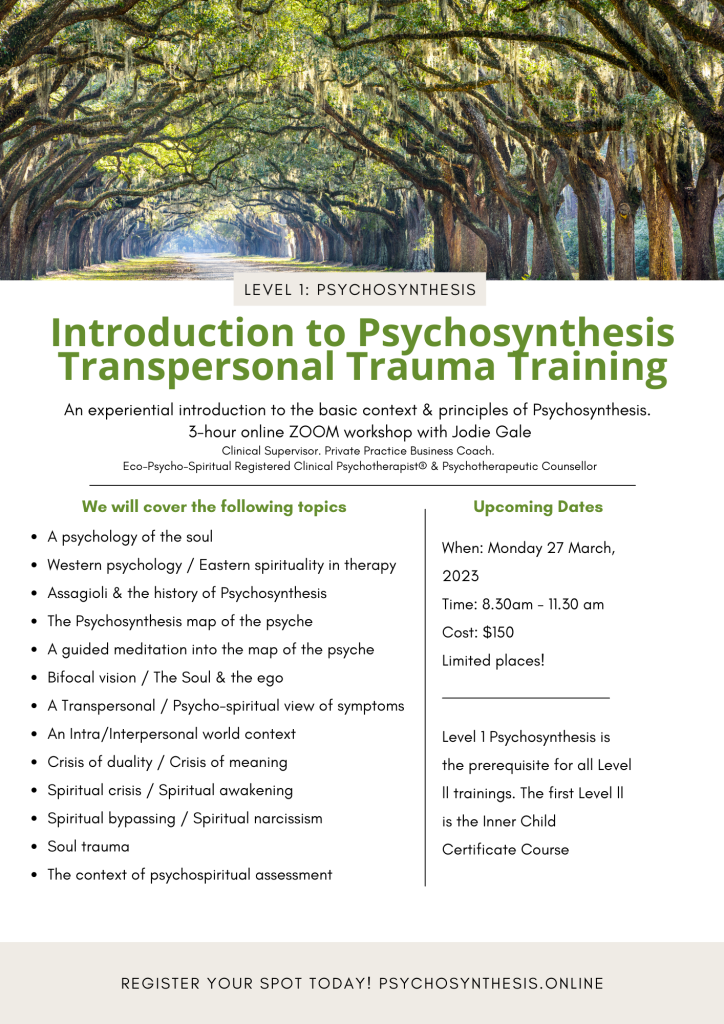 Psychosynthesis training and workshops are continued professional development for psychotherapists, counsellors, social workers, psychologists, mental health workers, psychiatric nurses and alternative health practitioners. Participants are expected to have a diploma or above to participate at Psychosynthesis.Online
Bookings for the Level 1: INTRODUCTION TO PSYCHOSYNTHESIS TRANSPERSONAL TRAUMA TRAINING
An experiential introduction to the basic principles & context of Psychosynthesis. Two-hour online ZOOM workshop.
The workshop is a pre-requisite for all future Psychosynthesis trainings and workshops with Jodie at Psychosynthesis.Online including the Inner Child Therapy certificate coming next year.
All Times in Sydney, Australia (AEST) Timezone
Mon, Nov 14th @ 9:00 am – 11:00 am. (Sold Out) or Tue, Nov 15th @ 7:00 pm – 9:00 pm. (Sold Out)
This Level 1 is a prerequisite to the 2023 Level ll Inner Child Certificate Training. The next dates will approximately be around April 2023. Join my mailing list to receive notification.
This workshop covers:
A psychology of the soul
Western psychology / Eastern spirituality in therapy
Assagioli & the history of Psychosynthesis
The Psychosynthesis map of the psyche
A guided meditation into the map of the psyche
Bifocal vision / The Soul & the ego
A Transpersonal / Psycho-spiritual view of symptoms
An Intra/Interpersonal world context
Crisis of duality / Crisis of meaning
Spiritual crisis / Spiritual awakening
Spiritual bypassing / Spiritual narcissism
Soul trauma
The context of psychospiritual assessment
On completion, you will receive a certificate for 2 hours of continued professional development.
Cancellation Policy
Cancellations within 1 week of live zoom workshop start dates will incur the full course fee. Digital courses are non refundable as the content is downloadable on purchase.
If you have any questions, don't hesitate to reach out.